We have recently launched 3 new DHL features on Ship&co dashboard, to make your DHL shipping experience on Ship&co even more seamless.
1. Return Labels Now Available
In addition to issuing DHL shipping labels on Ship&co, you will now be able to issue DHL return labels concurrently. With a "return label", the sender and destination addresses are reversed, such that goods can be easily returned by the recipient. Including a return label in advance is especially useful when you're shipping higher value items, as it helps lower the barrier for your customers in making purchase decisions.
Before the return label is issued, you will be able to check the shipping cost you (as the shipper) will need to bear for the return shipping. This return shipping fee will only be incurred if your customer ends up returning the item, chargeable at the end of your billing cycle.
Please note:
A return label is valid for three months from issuance.
While a return label can be highly useful, please issue only when necessary, as there might be potential issues (e.g., delays in parcel delivery) if you issue a large number of return labels that do not eventually get used.
For more info on setting up a return label on Ship&co, click here.
For more info on issuing a return label on Ship&co, click here.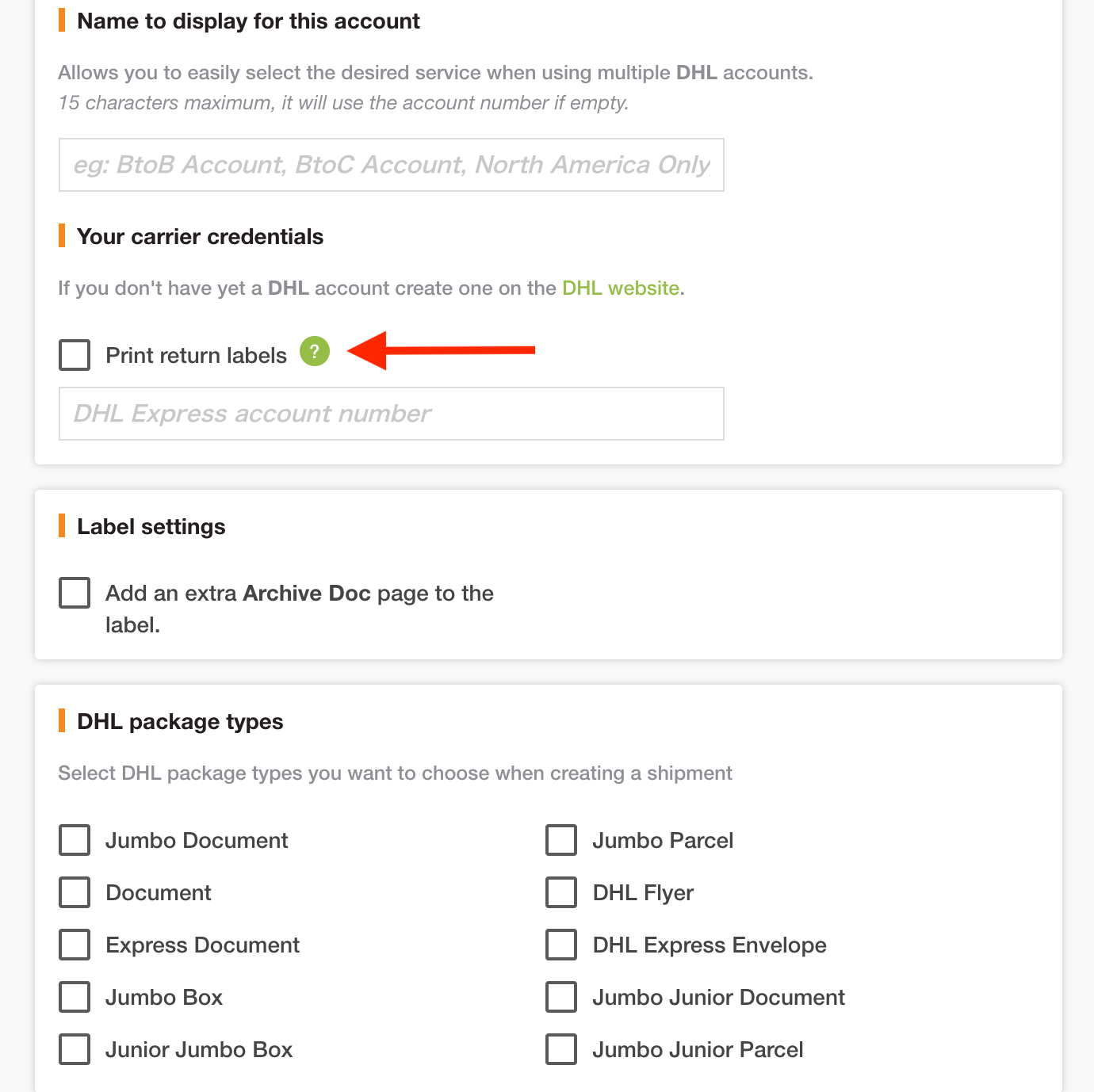 2. Introducing PaperLess Trade (PLT)
DHL PaperLess Trade (PLT) service is now available on Ship&co! PLT service allows you to electronically transmit customs documents, eliminating the need to print and physically attach them to your shipments. This helps you save even more time, paper and printing costs, while making a positive contribution to the environment.
When using the PLT service on Ship&co, please note the following:
You will need to upload an image of your company's authorized signature in advance. Signature images can be uploaded through "Settings" >> "Invoice & Delivery Note" (JPEG/PNG file required).
PLT service may not be supported by DHL in some countries. In addition, in some countries, there may be a maximum limit on declared price that can be shipped. To find out more, take a look at this FAQ (4th question from the top). For packages originating from Japan, the maximum declared price when using PLT is JPY 201,000.
An error message will be returned if the destination country does not support PLT, or if the declared price exceeds the maximum limit. If an error message is returned, please print out the shipping label as well as 2 copies of the customs invoice, and pass them to DHL upon pickup of your parcel.
For more info on setting up PLT on Ship&co, click here.
3. Address Field Character Limit Increased
We are increasing the character limit on DHL destination address field (address lines 1 and 2) from 70 characters (35 characters x 2 lines) to 90 characters (45 characters x 2 lines), to accommodate longer address inputs.
We hope you find these new features beneficial. In addition, some other new features we have in plan are:
Adding DHL pickup request function
Adding return labels and pickup functions for Fedex and UPS as well
---
About Ship&co
Ship&co is a global shipping platform designed by and for e-commerce sellers. Created by the team behind Bento&co, who have been selling on Shopify since 2008, Ship&co provides a simple and easy-to-use web dashboard and shipping API. Ship&co helps online sellers ship packages faster by automatically syncing orders and creating shipping labels and invoices in minutes. With Ship&co, you can create shipping labels for FedEx, UPS, DHL, NinjaVan, Yamato, Sagawa, and more, with just two clicks to complete the process and mark your orders as shipped. For more information on Ship&co, visit shipandco.com or reach out to us via hello@shipandco.com !