Expanding your ecommerce business into Japan can be a lucrative opportunity, but it requires careful planning and understanding of the local market. One crucial aspect of your success in Japan is getting your ecommerce logistics and fulfillment strategy right.
In this comprehensive guide, we'll talk explore the key factors to consider when localizing your ecommerce brand in Japan and provide actionable insights to help you navigate the complex world of Japanese ecommerce logistics.
*This article is a part of our latest series, 'Localize your ecommerce brand in Japan' to help international brands expand to Japan. Find more here:
Logistics Infrastructure in Japan
Japan's logistics industry plays a pivotal role in its economy, contributing over 5% of the country's GDP. The demand for Japanese products, both domestically and internationally, has driven the growth of this sector. Here are some key features of Japan's logistics landscape:
1. The domestic logistics network in Japan
Japan boasts an extensive network of transport options, consists of:
Road transportation, such as trucks
Railway transportation
Inland water transportation
Air transportation
With above logistics network, Japan can facilitate efficient movement of goods. Road transportation, primarily through trucks, plays a leading role in modern domestic logistics in Japan.
In terms of mode-specific domestic freight transportation (measured in ton-kilometers), road transportation by trucks accounts for approximately 50%, inland water transportation makes up about 40%, and railway transportation comprises only around 5% of the total.
2. Dedicated Logistics Companies
Numerous logistics companies cater to both personal and business needs, offering a wide range of services to ensure smooth logistics operations.
Japan's top logistics companies are Nippon Yusen (NYK), Nippon Express, Yamato Holdings, SG Holdings, Alps Logistics, Seino Holdings, and more.
3. Impressive Parcel Delivery for Ecommerce business
In 2021, the E-commerce market is experiencing steady growth, with its size continuously increasing. Particularly, the impact of the COVID-19 pandemic has led to a significant surge in online shopping demand.
The volume of parcel deliveries is on the rise. Due to factors such as stay-at-home orders associated with the spread of the COVID-19, many individuals are spending more time at home, leading to an increase in single-time package acceptance.
This parcel delivery volume proves the significantly higher demand in ecommerce market in Japan.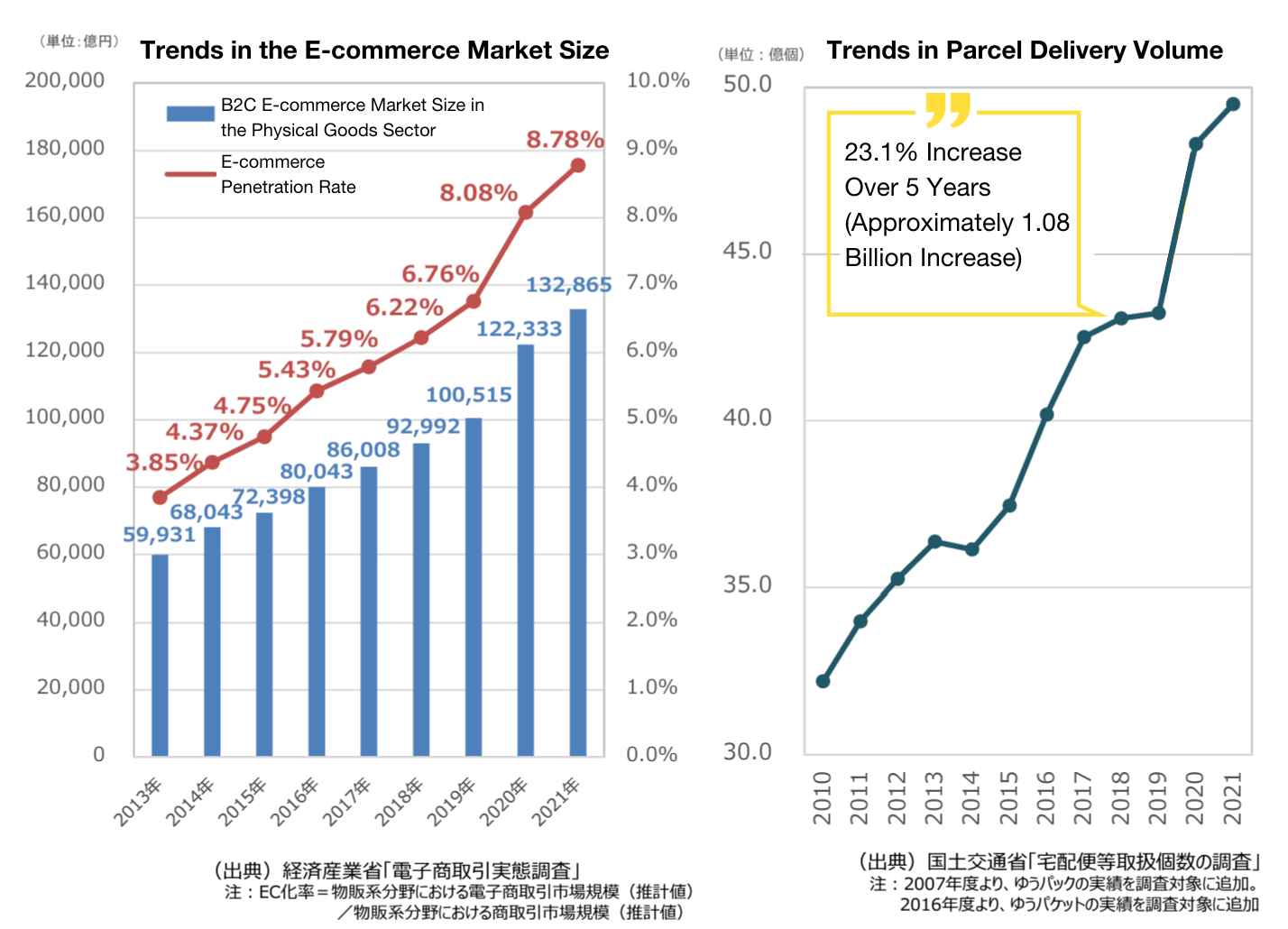 Local Service Standards in Japan
Japanese consumers have high expectations when it comes to ecommerce logistics and fulfillment. Understanding these standards is essential for providing exceptional service:
1. Speedy deliveries, even in the most remote areas
Standard delivery in Japan typically occurs within 24 hours or the next day. Customers expect an explanation if delivery takes more than two days.
To help you understand more on this, let's us give you an example of Kuroneko Yamato's Takuhai service (home delivery service).
From Tokyo to Osaka: 1 days
From Hokkaido to Okinawa: 2 days
2. Hand-to-Hand Delivery
Packages must be handed directly to the customer and signed for or placed in their personal locker. No-contact delivery has gained popularity due to COVID-19, with certain conditions applied.
Based on research of Cross Marketing, the results shown "Hand-to-Hand Delivery" is the most common method of receiving delivery services. Following this, there are "leave at the door" and "delivery box." Interestingly, even in households with delivery boxes, "hand delivery at home" remains the most prevalent method.
3. Specified delivery date and time
One of the most popular shipping features offered by Japanese carrier is to specify the delivery date and delivery time. It is common to allow consumers to select their preferred delivery date and time at ecommerce store's checkout.
Taking a look at actual data how consumer use this benefit, we found that 42% of respondents stated they use it "almost always," while 31% mentioned using it "occasionally." Notably, the "almost & always" category is higher among respondents in their 40s and 50s. Even in households with delivery boxes, "almost always" represented 39% of responses.
4. Cash on Delivery (Daibiki)
Cash-on-delivery (COD) is a widely trusted option, providing both convenience and security. Japanese consumers find comfort in the fact that they don't need to enter credit card details on the e-commerce site. Even when credit card payments occur during COD, customer data is promptly deleted post-transaction, ensuring security.
From the e-commerce company's standpoint, COD ensures a direct exchange of goods and payment, guaranteeing fund collection and offering assurance to both buyers and operators. COD is popular options from various age groups, ensuring a constant demand. It also has the potential to prevent consumers from missing purchase opportunities.
5. Convenient Pickup
Today, delivery options go beyond doorstep delivery and include alternatives like store pickups and delivery lockers. This variety caters to the changing preferences of Japanese consumers who seek the most convenient delivery method for their lifestyles.
The trend of "personalized delivery" is expected to accelerate even further in the future and the ecommerce sites that offer the delivery methods users prefer will be favored.
6. Perishable Products
Major shipping carriers in Japan offers service to ship perishable foods. There are mostly two types of temperature ranges shipper can assign: chilled and frozen.
For Yamato Transport, they called this service a Cool TA-Q-BIN:
Chilled type - a temperature range of 0°C to 10℃
Frozen type - a temperatures of -15℃ or less
For Japan Post, they offer this service as one of the shipping option for Yu-Pack:
Chilled type - a temperature range of 0℃~5℃
Frozen type - a temperature range of -18℃ or less
For Sagawa Express, they have Hikyaku Cool Express to ship parcels under temperature control:
Chilled type - a temperature range of 2 ℃ to 10 ℃
Frozen type - a temperatures of -18 ℃ or lower
Shipping in Japan
Shipping plays a pivotal role in ecommerce logistics. In Japan, several domestic and international carriers facilitate shipping. Let us give you the major carriers you should keep in mind when managing ecommerce store in Japan here:
Domestic Shipping:
1. Sagawa Express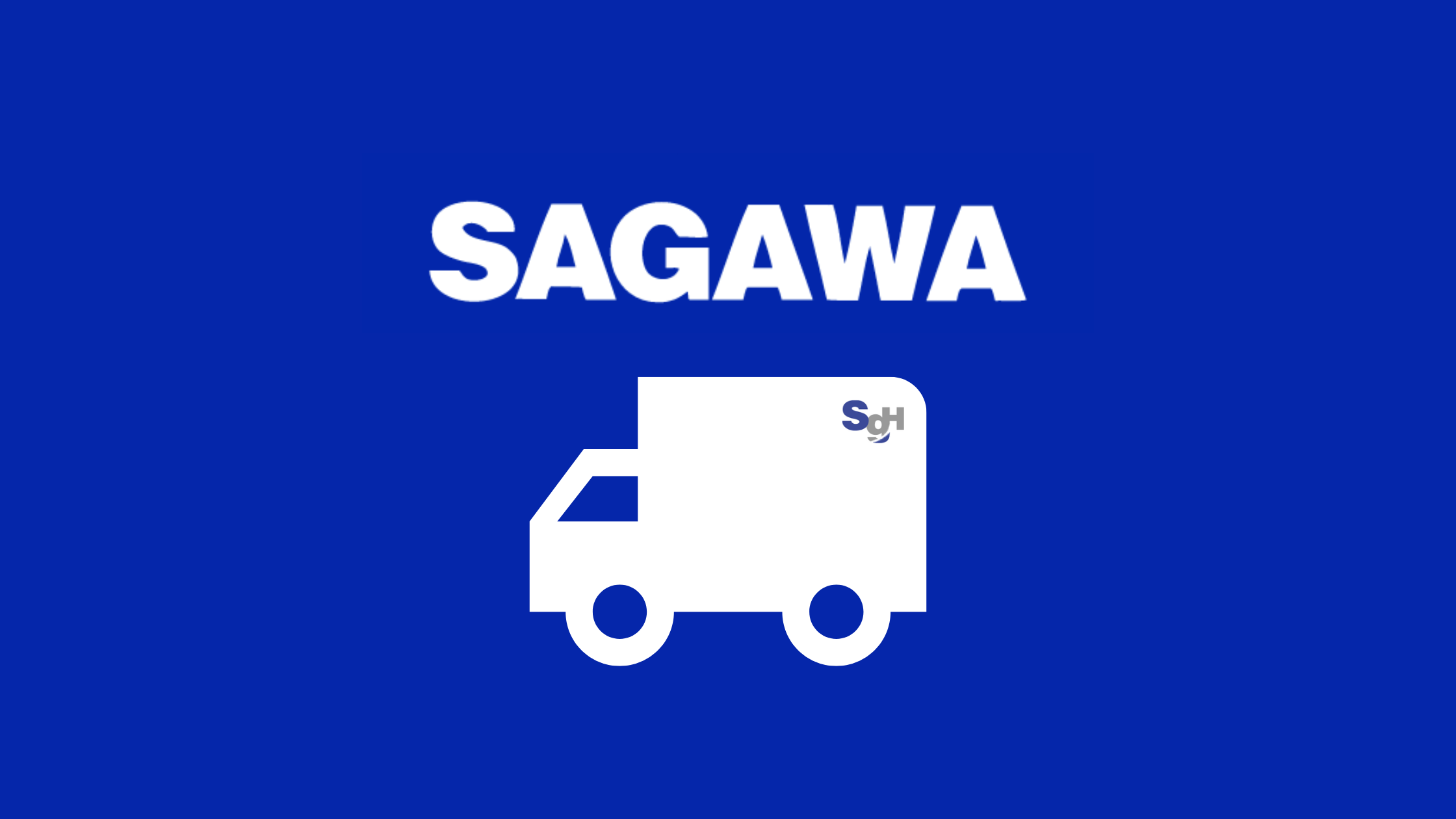 2. Yamato Transport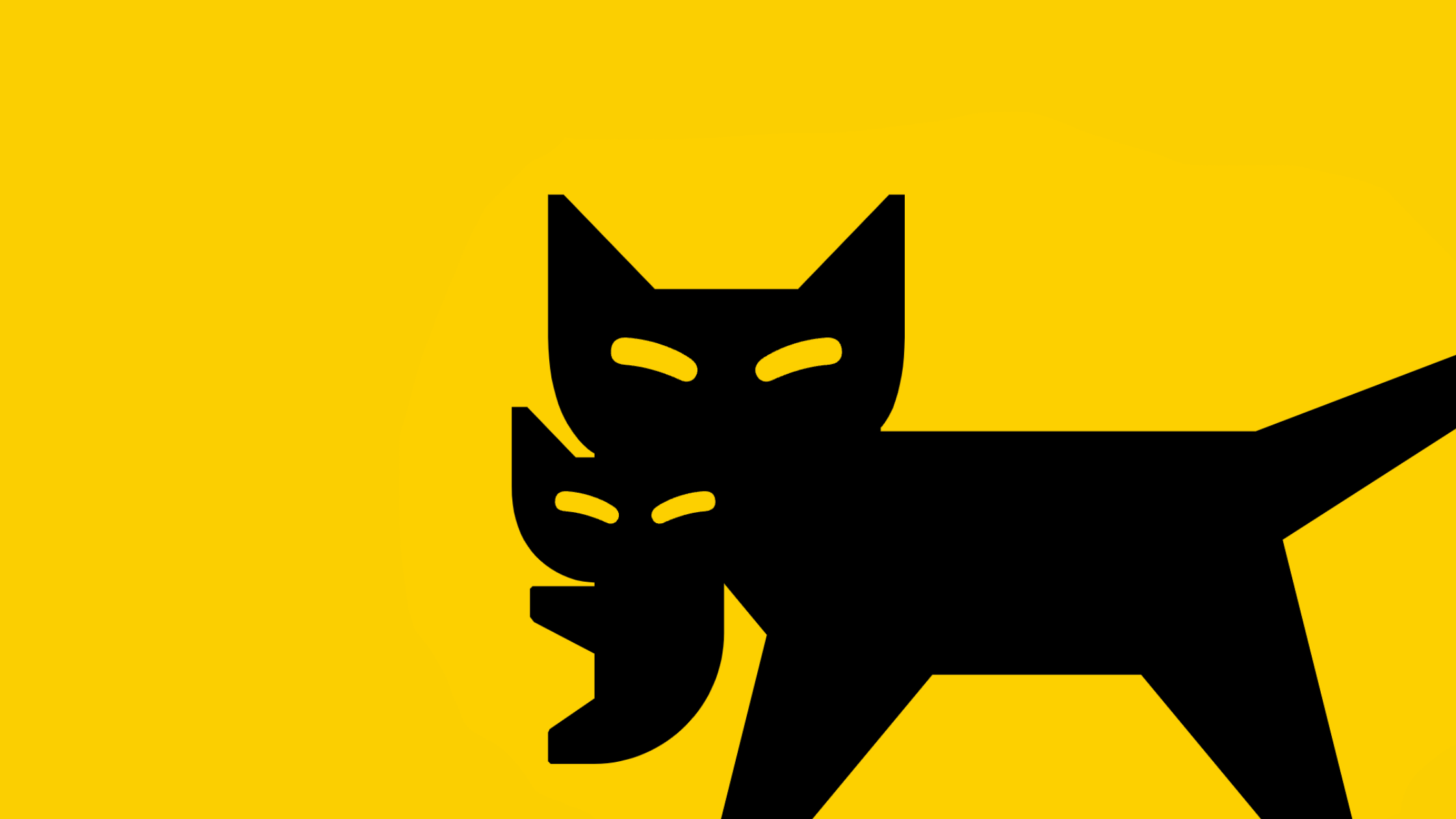 3. Japan Post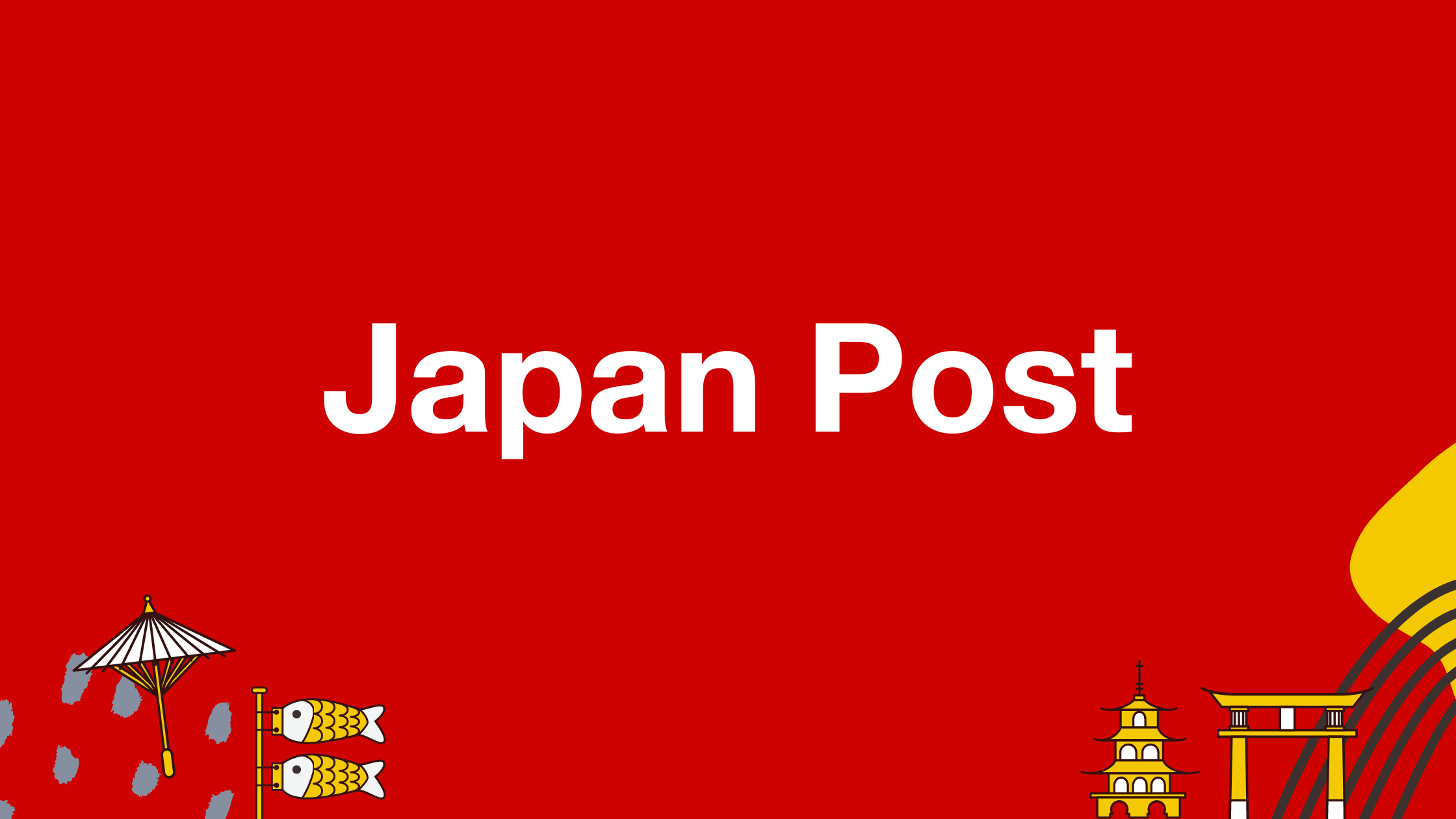 International Shipping:
FedEx Express
DHL Express
UPS
While international couriers can handle shipping to and from Japan, domestic logistics providers excel at managing local deliveries.
Fulfillment and Warehousing Trends
Japan's warehousing industry is evolving to meet the growing demands of ecommerce businesses:
Automation: Warehouses are increasingly automating processes to reduce delivery times and address labor shortages.
Shared Warehouses: The popularity of shared warehouses is on the rise, helping reduce costs for merchants.
Value-Added Services: Warehouses are adding value through delivery services and innovative packaging solutions to enhance the customer experience.
To meet the diverse needs of both e-commerce sellers and buyers, companies in Japan have begun offering Third-Party Logistics (3PL) and fulfillment services, including Nippon Express, S-grow, Openlogi, and more.
Additionally, there is a growing demand for implementing technology to simplify the shipping process, even for merchants who handle shipping in-house.
To address this increasing demand, Bertrand Co has developed a shipping platform, Ship&co.  This solution includes the Ship&co application, a user-friendly shipping dashboard, and the Ship&co API, a shipping API that enables e-commerce companies to seamlessly integrate Ship&co's shipping features into their existing systems, streamlining their shipping processes.
Return Policies in Japan
Unlike many shopping cultures worldwide, returns and exchanges are not assumed in Japan. However, changing customer expectations, particularly influenced by companies like Amazon, are reshaping the landscape.
Here are some key aspects of return policies in Japan:
The Civil Code of Japan does not obligate stores to accept returns or exchanges by default.
The Specified Commercial Transaction Act (ASCT) requires all merchants to have a clear return policy on their website, including details on return conditions, fees, and whether a product can be returned.
If the merchant fails to outline these conditions, customers are entitled to return the product within 8 days without any justification, and this rule also applies if the product is damaged.
Next, let's take a look at how Japanese consumers think about the ecommerce store's return policy. We brought you some data from Recustomer's survey:
In a survey about the return experience on e-commerce sites in Japan, 41.2% expressed "quite a bit" of dissatisfaction, and 46.1% had "somewhat" dissatisfaction.
Dissatisfaction reasons included delays in receiving exchanged items and the inconvenience of having to return all items in an order.
Despite dissatisfaction, 93.1% of consumers were willing to shop again on the same e-commerce site if their return experience improved.
Factors contributing to a good return experience according to respondents included the minimal communication with e-commerce staff and short processing time for returns.
A 60.8% of Japanese consumers always check the return policy before making a purchase on e-commerce websites.
Among those who checked the return policy and decided not to make a purchase because the inability to return or exchange goods (e.g., wrong image or size) for 52.9% and short return deadlines for 31%.
This data underscores the importance of simplifying and streamlining the return process for e-commerce companies to retain and satisfy their customers.
In Conclusion
Entering the Japanese ecommerce market is a great opportunity, but it requires careful planning and understanding of local nuances.
One key to success in Japan is having a strong logistics and fulfillment strategy. In this guide, we've covered important factors for adapting your ecommerce brand to Japan and provided practical insights for dealing with the country's unique logistics.
This article is part of our ongoing series, 'Localize your ecommerce brand in Japan,' aimed at helping international brands expand into Japan. We've explored Japan's logistics system, local service standards, shipping details, warehousing trends, and return policies.
By following these guidelines, you can tap into the Japanese ecommerce market's potential, satisfy customers, and ensure long-term prosperity.
---
About Ship&co
Ship&co is a global shipping platform designed by and for e-commerce sellers. Created by the team behind Bento&co, who have been selling on Shopify since 2008, Ship&co provides a simple and easy-to-use web dashboard and shipping API. Ship&co helps online sellers ship packages faster by automatically syncing orders and creating shipping labels and invoices in minutes. With Ship&co, you can create shipping labels for FedEx, UPS, DHL, NinjaVan, Yamato, Sagawa, and more, with just two clicks to complete the process and mark your orders as shipped. For more information on Ship&co, visit shipandco.com or reach out to us via hello@shipandco.com !