If you're a marketing professional, you know that having a clear understanding of your customer profile is vital—how they're searching and sharing information or what other factors are influencing their decision to purchase.
Knowing these will help you take a strategic action starting from launching to promoting your brand. Also, it's important to take a look how other brand are doing, especially the local brands when you expand overseas.
In this article, we give you an comprehensive overview of top media platforms that will amplify your brand presence in Japan. By knowing this, you will be able to develop a strategy for your business in Japan effectively.
Use of Social media in Japan
Use of Instagram to promote your brand in Japan
Use of Facebook to promote your brand in Japan
Use of LINE to promote your brand in Japan
Use of TikTok to promote your brand in Japan
Use of YouTube to promote your brand in Japan
Use of note to promote your brand in Japan
Use of Social media in Japan
In Japan, there are different ways to reach customers, including advertising and social media. For ecommerce brand, the use of social media to drive traffic to an ecommerce website is currently gaining more attention.
Most widely used social media platforms we want you to remember are as follow:
Instagram
Facebook
Twitter
LINE
TikTok
YouTube
note
Let's look at how Japanese brand are using those media platforms to increase the traffic of their ecommerce store and increase their brand awareness.
Use of Instagram to promote your brand in Japan
Instagram is known as a popular social media platform to share photos and videos. It offers a wide range of features that resonate with the younger generation, such as "Stories" that disappear after 24 hours and "Instagram Live," which allows users to stream live videos to their followers.
Furthermore, it provides a "Instagram Shopping" feature specifically designed for e-commerce sites, allowing direct transitions from Instagram posts to the e-commerce site, facilitating seamless purchasing.
By creating a product catalog on your company's profile page, Instagram users can easily discover products and navigate through the purchase process.
Here, we'll give you one good example of a Japan-based D2C brand, Hinata Life.
Hinata Life is a online store for interior goods, launched in 2017 as a Direct-to-Consumer brand. In just three years, Hinata Life has achieved rapid growth, with a monthly revenue of 100 million yen. As of January 2023, Hinata Life boasts over 600,000 followers on social media and collaborates with approximately 1,000 influencers.
They have expanded their business using a unique influencer marketing strategy that sets them apart from their competitors.
Interesting thing is... they achieved this without focusing much on advertising.
When starting the brand, Hinata Life used Google Analytics data to understand where mostly engagement comes from. And Instagram was the highest.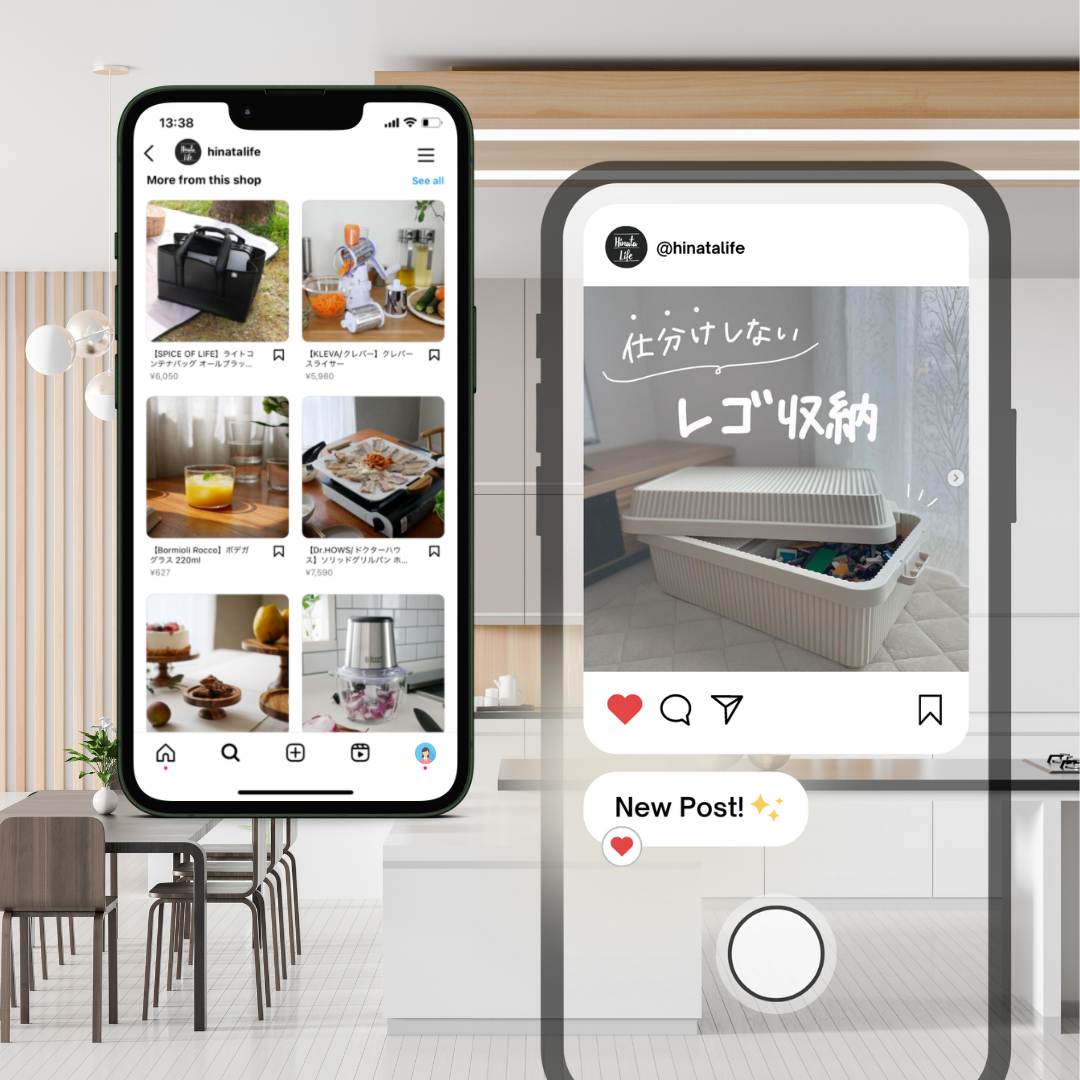 Therefore, they decided to prioritize Instagram as their primary platform. In the beginning, the staff posted one Instagram post per day and added one product to their website per day, integrating Instagram with their ecommerce site. After three months of opening their Instagram account, they reached 1,000 followers.
However, they realized that simply posting consistently was not enough to rapidly increase followers. To address this, they tried promoting their own products through interior influencers. Then, they recruited influencers through agencies. This approach increased traffic and followers, and products were purchased as well. However, the cost did not align with their expectations.
Hinata Life shifted to recruiting interior and lifestyle influencers internally through the DM. Then, they gifted the approved influencers with their products and asked them to post about them on Instagram. The response from consumers was immediate. Later, by increasing the number of influencers to 30 under the name "Hinata Life Official Ambassadors," their operations gained momentum, and they began gaining around 10,000 to 15,000 new followers per month.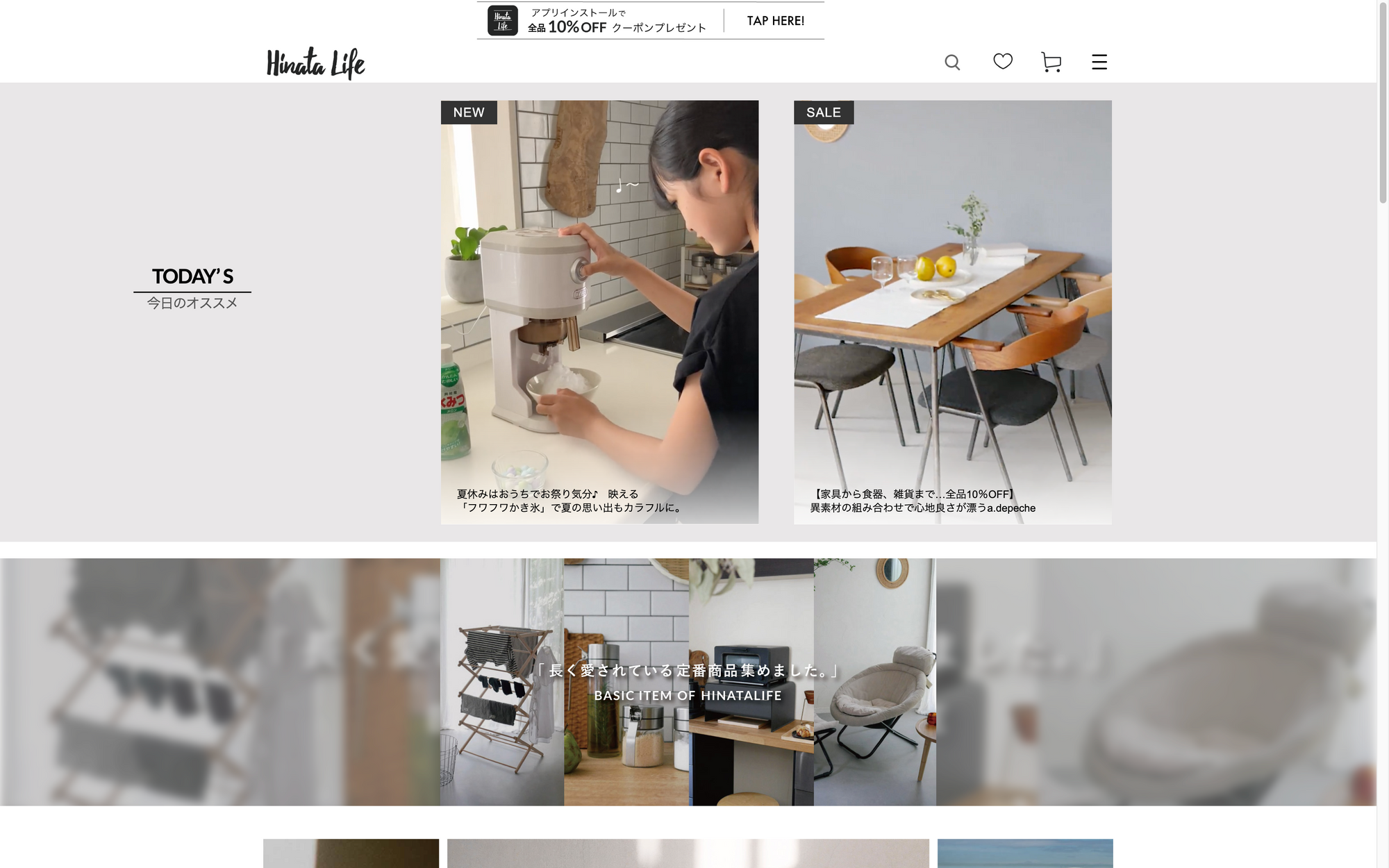 Ant that's the story of Hinata Life. If you are decided to create an Instagram business account for your brand, let us give you more ideas what you could do to effectively utilize Instagram for your ecommerce stores:
▢ Create posts (photos and videos) that resonate with your target audience and strive to gain followers
▢ Unify the visual style between Instagram and your e-commerce site
▢ Utilize hashtags with a focus on creating a clear user flow
▢ Increase engagement with users through Instagram Stories
▢ Make use of the polling feature in Instagram Stories
▢ Integrate Instagram Shopping functionality with your ecommerce site
▢ Implement live commerce through the live streaming feature
▢ Repost the user-generated content in Instagram
▢ Contact influencer for a review in exchange of gifted products
▢ Manage Instagram advertising campaign
Use of Facebook to promote your brand in Japan
Facebook is the world's largest social media platform with a vast number of users globally. But if you are looking for a social media platform to promote your brand, Facebook might not be a very first option you should go for.
In Japan, the main user demographic of Facebook is in the 30-40 age range, which is relatively older compared to other social media platforms. The lower presence of teenage users on Facebook indicates that it is more favored by business professionals rather than students.
Facebook tends to have a higher proportion of posts related to real-life activities, and users can set detailed profiles, allowing for a better understanding of individuals. Therefore, it is a social media platform where connections with both personal and professional contacts are prevalent, and there is a greater abundance of business-related information and longer updates on current situations.
Also, primary purpose to use Facebook is to "access useful information". Given the high number of business professionals among the user base, there is a demand for valuable information. Users utilize Facebook with the aim of discovering valuable information that they feel compelled to share with others.
If you are focusing on these target audience, Facebook may be one of your answer, but if not, we highly recommend you to go for other options.
Let's check out the Facebook page of a well-known Japanese brand, MUJI.
With 1 millions of like and followers, MUJI doesn't heavily promote products or campaigns on Facebook. Even if they do, the content primarily focuses on specific suggestions regarding product features and usage, or directs customers to columns related to the products to deepen their understanding before guiding them to the ecommerce site. In other words, their approach reflects a desire for dialogue with customers rather than one-way communication, evident from their operational methods.
They also post columns on topics unrelated to their products, such as space exploration, showing their emphasis on customer interests and trust-building.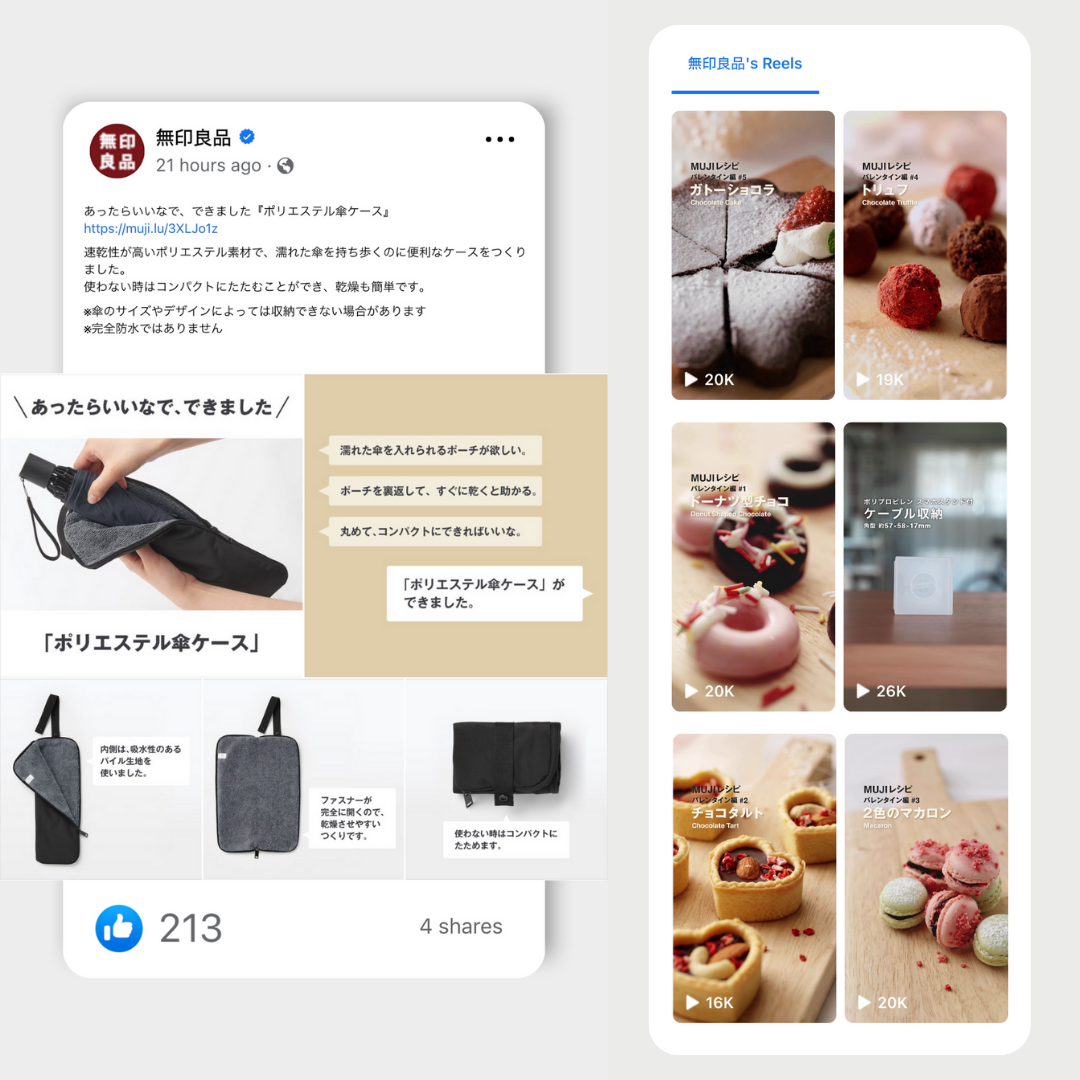 Use of Twitter to promote your brand in Japan
Twitter is a popular social media platform where something often "goes viral" through retweet feature. Twitter excels in trendiness, making it a valuable platform for collecting fresh information on a wide range of topics, from current events and global news to local weather and train delays.
In Japan, there is a growing trend of media outlets, including television, acquiring information from social media platforms like Twitter, leading to its transformation into news content. This makes Twitter a platform with the potential for further exposure and generating buzz through media coverage.
If you're not sure what kind of contents will suit Japanese twitter community, let us introduce a case study of  the globally renowned fashion brand, UNIQLO.
UNIQLO actively shares the latest fashion item information for each season on Twitter and directs users to their own e-commerce site.
One notable technique to consider is their approach of proposing multiple fashion coordinates and specifically portraying "where the products are being used" in order to captivate users' interest and enable them to visualize the items.
Furthermore, they distribute their own folded leaflets on Twitter. These leaflets include links to their e-commerce site.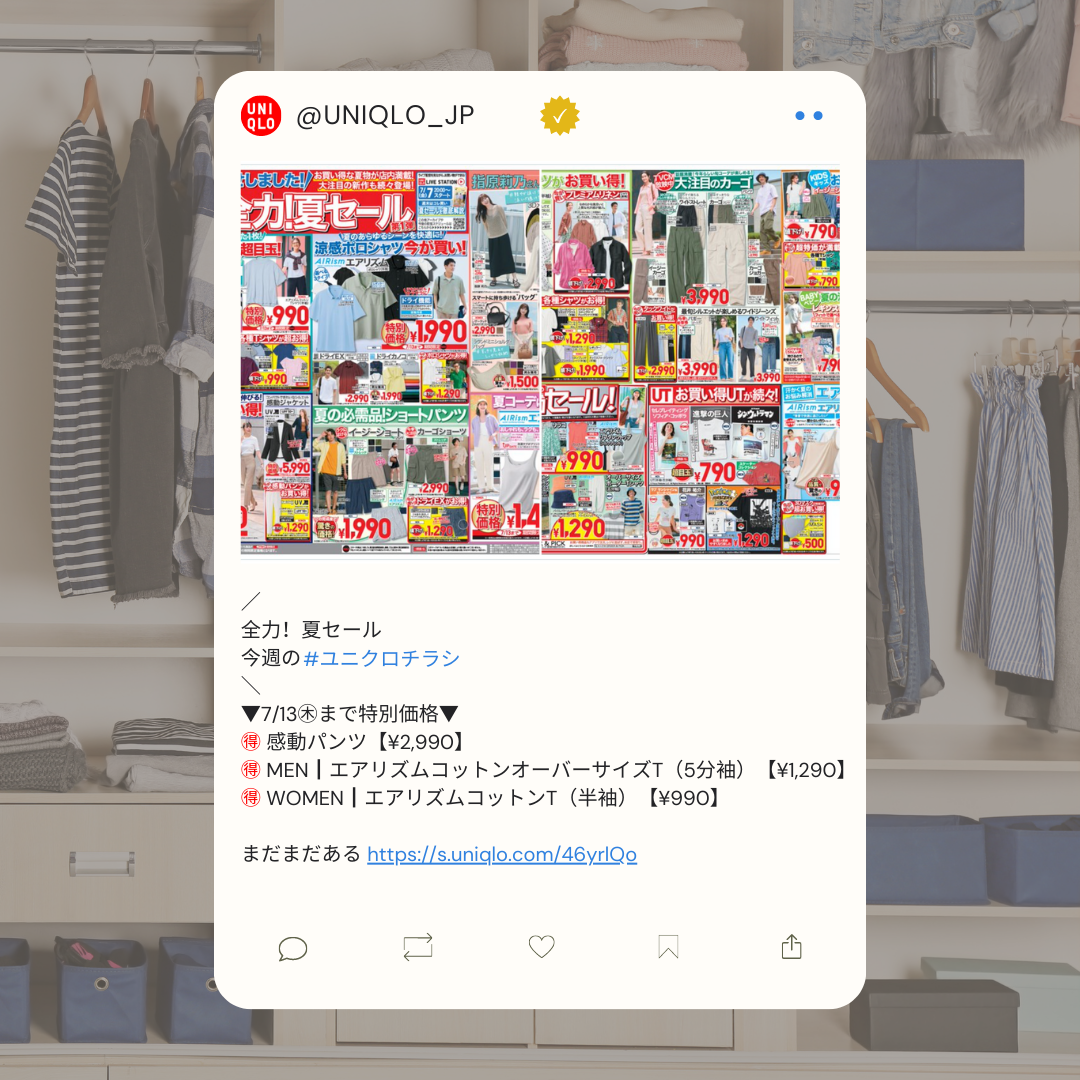 Apart from a B2C or D2C brands, many B2B companies are using Twitter to promote their brands too. We found common traits among popular Twitter account in Japan.
Building a close connection with users
Share real-time information about seasons and events
Run a promotion campaign specifically for Twitter followers
Use of LINE to promote your brand in Japan
LINE is the most widely used social media app in Japan. It presents many opportunities for business use to target consumers in Japan.
LINE Official account: This service allows companies to connect with LINE users and actively share information.
LINE ads: This service allows companies to promote campaigns in image on various services they offer, including the main LINE app, LINE Manga, LINE News, LINE Blog, LINE Shopping, LINE Coupon, and more.
LINE Shopping: This service allows companies to list products on LINE. It can be based on their listings from various sources, including marketplace like Rakuten Ichiba and Amazon, as well as the ecommerce site.
Due to its immense user base, which can be considered at an infrastructure level, LINE has the advantage of having a wide reach and engaging with potential customers of various age groups.
To help you understand how to use LINE as your marketing platform in Japan, check the case study of a home decor shop, FrancFranc.
FrancFranc's LINE Official account usually sends out messages that are linked to. weather and temperature. This type of message leads to many purchases.
For example, they suggest microfiber bedding when the weather starts to get chilly or propose humidifiers when it becomes the season for running heaters continuously due to the cold.
LINE serves as an effective communication tool for Japanese. With its immediacy, brands like FrancFranc can delivery the message at the moment when their target customers think, "I want this".
For instance, Japanese people often check LINE during their commute or in between work, and it's natural for them to think, "Oh, it was cold this morning, maybe I should buy that."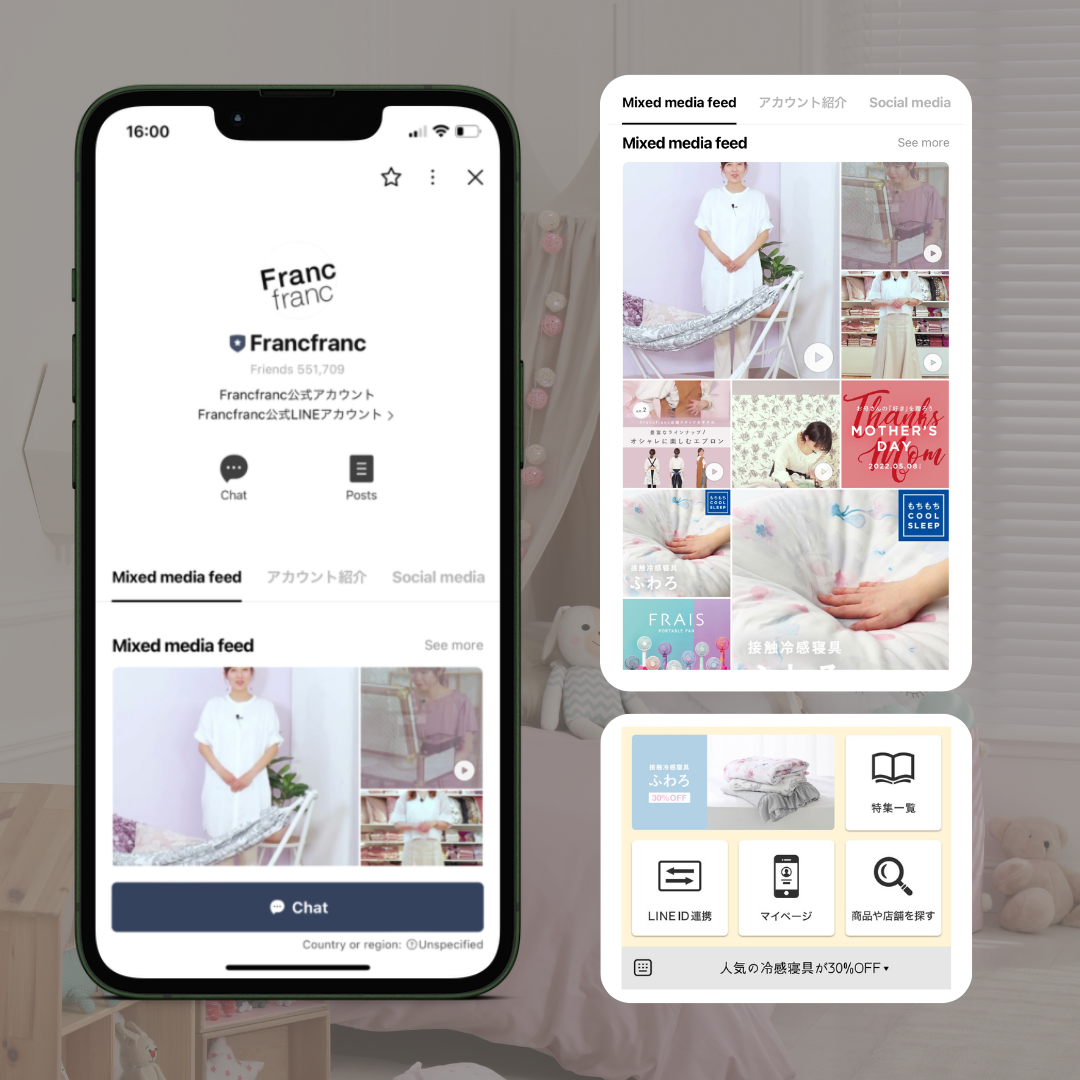 It's important for ecommerce brand to know when is the right timing to deliver the right message to their audience. You can either do the A/B testing and analyze the sales result in order to improve LINE message delivery.
Here are essential setup we don't want you to miss on your LINE official account:
Set up the greeting message to welcome new friend
Personalize the message based on your customer segment
Utilize LINE's Rich menu feature to increase engagement or link to website
Distribute a discount coupon when conducting a campaign
Use of TikTok to promote your brand in Japan
TikTok is a raising start among all social media in Japan. With TikTok, users can easily add background music and video effects to their 15-second videos, making it possible for even amateurs to create high-quality videos.
Moreover, TikTok features an advertising campaign called "#HashtagChallenge," where users are encouraged to post videos with specific themes and hashtags. This campaign has the ability to create trends both within and beyond the TikTok platform.
Similar to other countries, TikTok users in Japan are popular among Gen Z, teenagers and young adults.
In Japan, we found interesting use cases from a wide range of industries, such as eye drops brand like Rohto, apparel brand like WEGO, stationary brand like COPIC, or a security company like Daikyo Keibi.
WEGO's TikTok account primarily focuses on showcasing their own fashion items through their posts. They introduce various outfits that are suitable for each season, combining them with background music to present their items in a stylish and appealing way.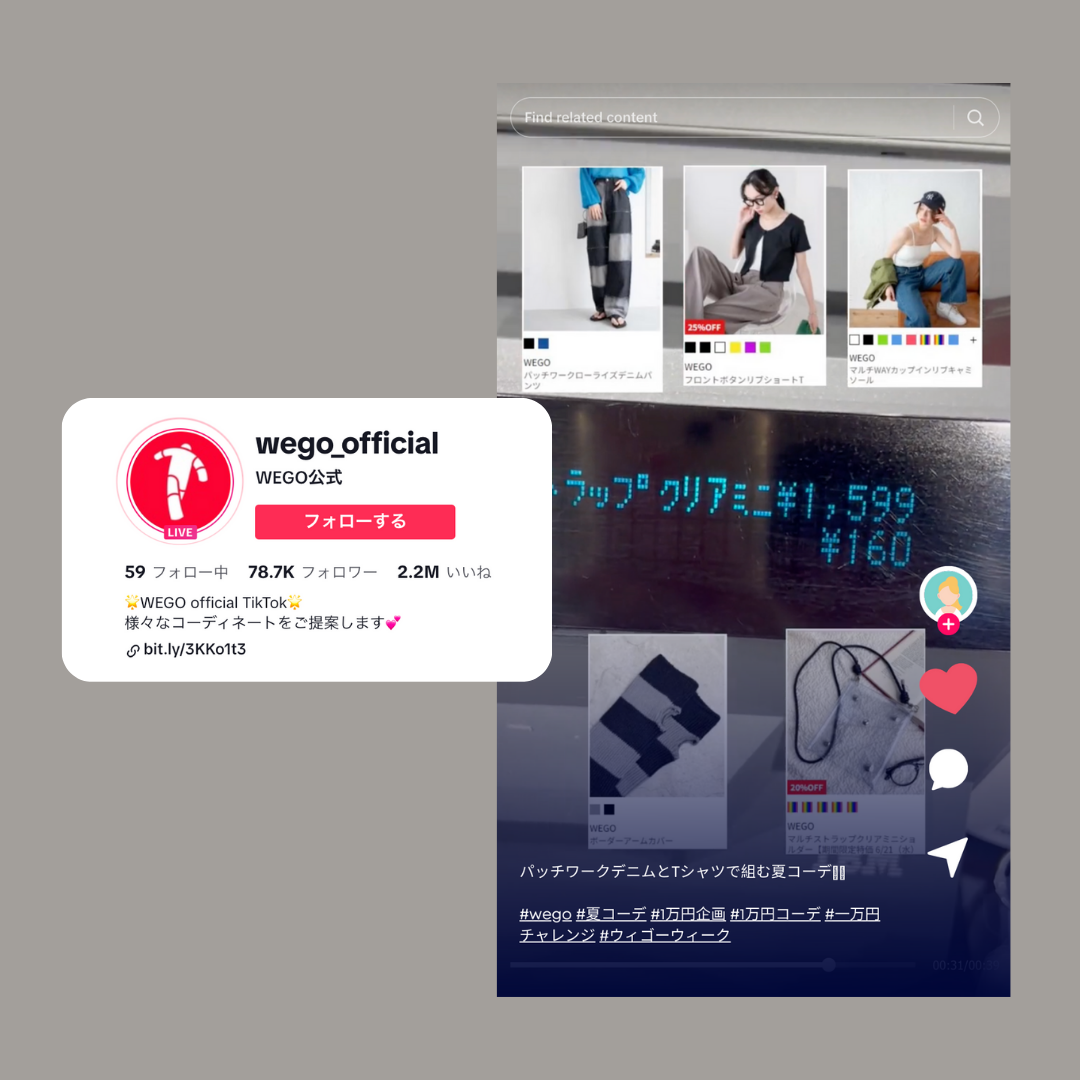 Furthermore, they actively collaborate with popular influencers, which is a distinctive feature of their account. In Japan, influencers hold significant influence over consumers, making their endorsement and attention beneficial for product promotion.
In addition, WEGO publishes a monthly magazine called "WEGO Magazine" to enhance their customer engagement. The magazine is distributed in their stores and on their e-commerce website.
Within the magazine, they create a section called "People We're Curious About! (気になるアノ人!)" that highlights trending individuals such as models and influencers, shifting the focus from the products themselves to the people behind them. These creative approaches can serve as valuable references.
Recently, with the partnership between TikTok and the major e-commerce platform Shopify, the environment for selling products through TikTok has been established. This makes TikTok an increasingly noteworthy social media platform for businesses operating e-commerce websites in Japan.
Use of YouTube to promote your brand in Japan
YouTube is is the world's largest video streaming platform, with a large user base.
One of its key features is the ability to create visually appealing videos with engaging elements such as captions and effects, which can stimulate users' interests. Compared to images, videos can convey more information, making it easier to showcase brands and products.
Additionally, YouTube allows for live streaming, enabling direct communication with users. It also provides the flexibility to include URLs to EC site links, making it an excellent tool for customer acquisition.
As a subsidiary of Google, a leading search engine, YouTube can deliver highly accurate advertisements using big data. This makes it attractive for driving traffic to EC sites by combining video content with targeted advertising.
Let's take a look at a success story of using YouTube from a Japanese brand, Hokuoh Kurashi no Douguten (北欧、暮らしの道具店).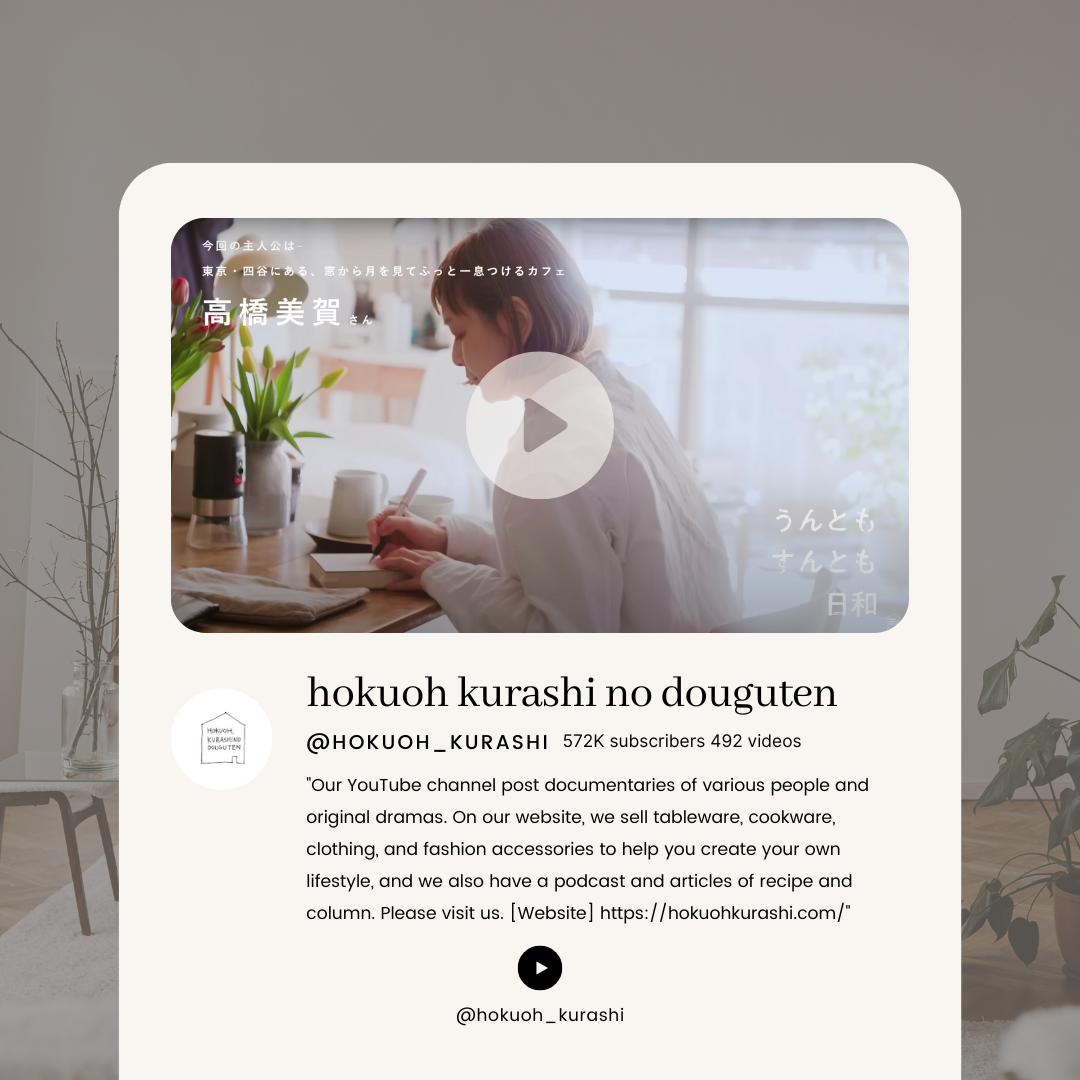 Hokuoh Kurashi is a Japanese blog-style online store selling a variety of Nordic style lifestyle products. The brand has successfully drived traffic to their e-commerce site with a unique and distinctive worldview through YouTube channel
Their video content varies, including dramas, product introductions, routine videos, and more. Despite the variety, all their videos maintain a unified aesthetic and are designed to guide viewers towards making a purchase.
Their success can be attributed to their deliberate targeting and user journey design since the channel's inception. They excel in creating content that stimulates the purchasing desire of people who love Nordic furniture.
The production cost of their videos is estimated to be considerable. However, the high-quality videos not only contribute to their sales but also enhance their corporate branding.
There are not many cases where a company channel achieves such success. Their strategic approach of relentlessly pursuing "what to convey and how" to their target audience can serve as a valuable reference.
We suggest an international brand to use transcreation of brand when expanding to Japan. You can consider leveraging video content, as visual storytelling is highly popular in Japan or localize your marketing materials, including website content, product descriptions, and social media posts to resonate with Japanese consumers.
Use of note to promote your brand in Japan
Most of you may not be familiar with note. It's a community platform created by a Japanese company. note is a blog-type platform which allows embedding of various content types such as text, images, videos, and SNS posts.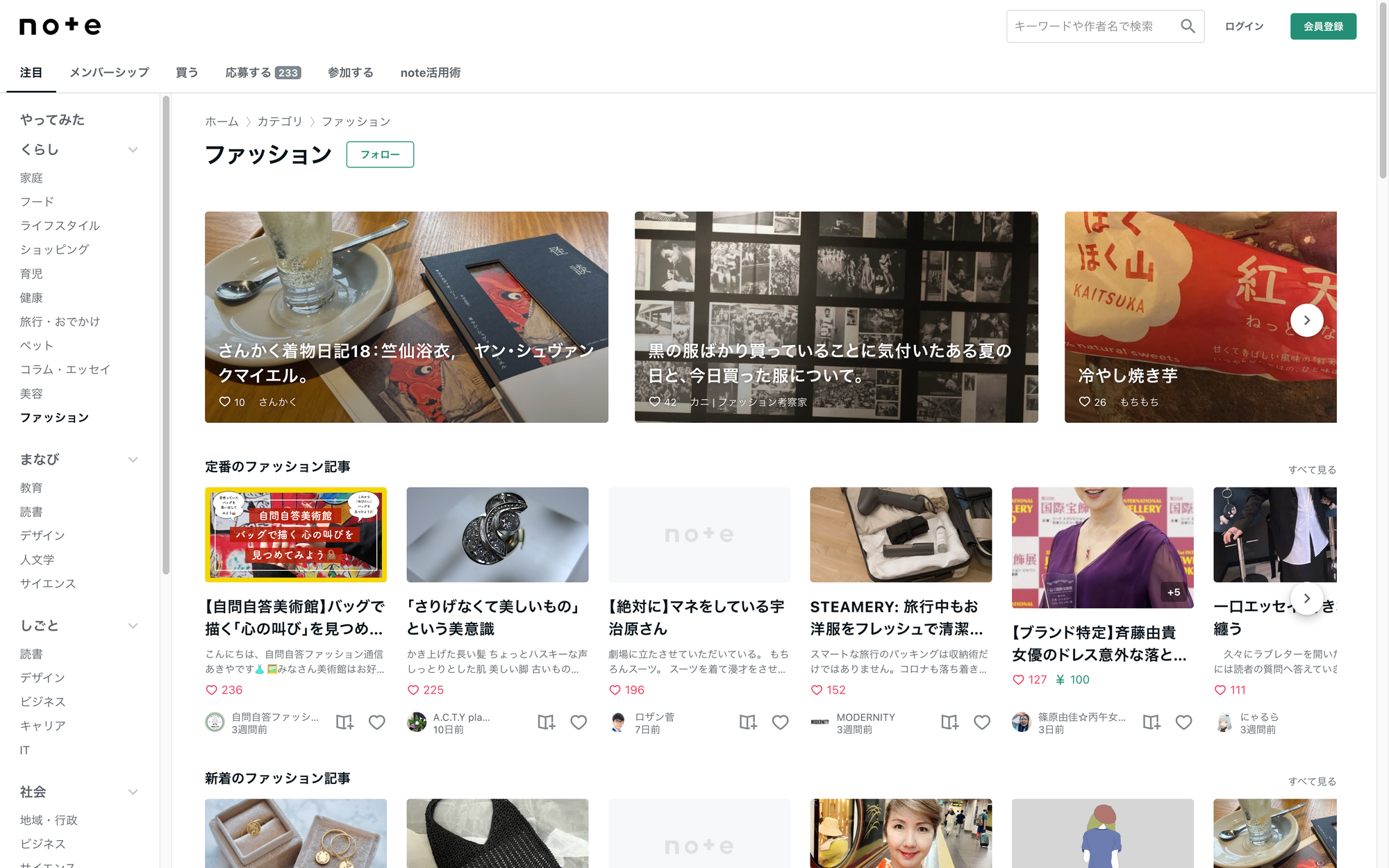 In January 2019, note surpassed 10 million monthly active users, and by May 2020, it had exceeded 63 million monthly active users, making it a rapidly growing platform.
It also integrates with various EC platforms, including BASE, Shopify, and Makeshop. Users can acquire a custom domain and customize their sites, allowing them to utilize note as their own EC site or homepage.
Furthermore, note has a strong presence in SEO (Search Engine Optimization), and with proper management, it has the potential to display content in the top search results on Google. This makes it a highly regarded platform with great visibility.
There are several brands in Japan using note as one of their marketing platforms, covering both B2B and B2C products. Here, we'll share you a case of using note from Kirin Group, a Japanese beverage company.
Kirin Group started utilizing note in April 2019 and has been recognized as a leading example of note utilization.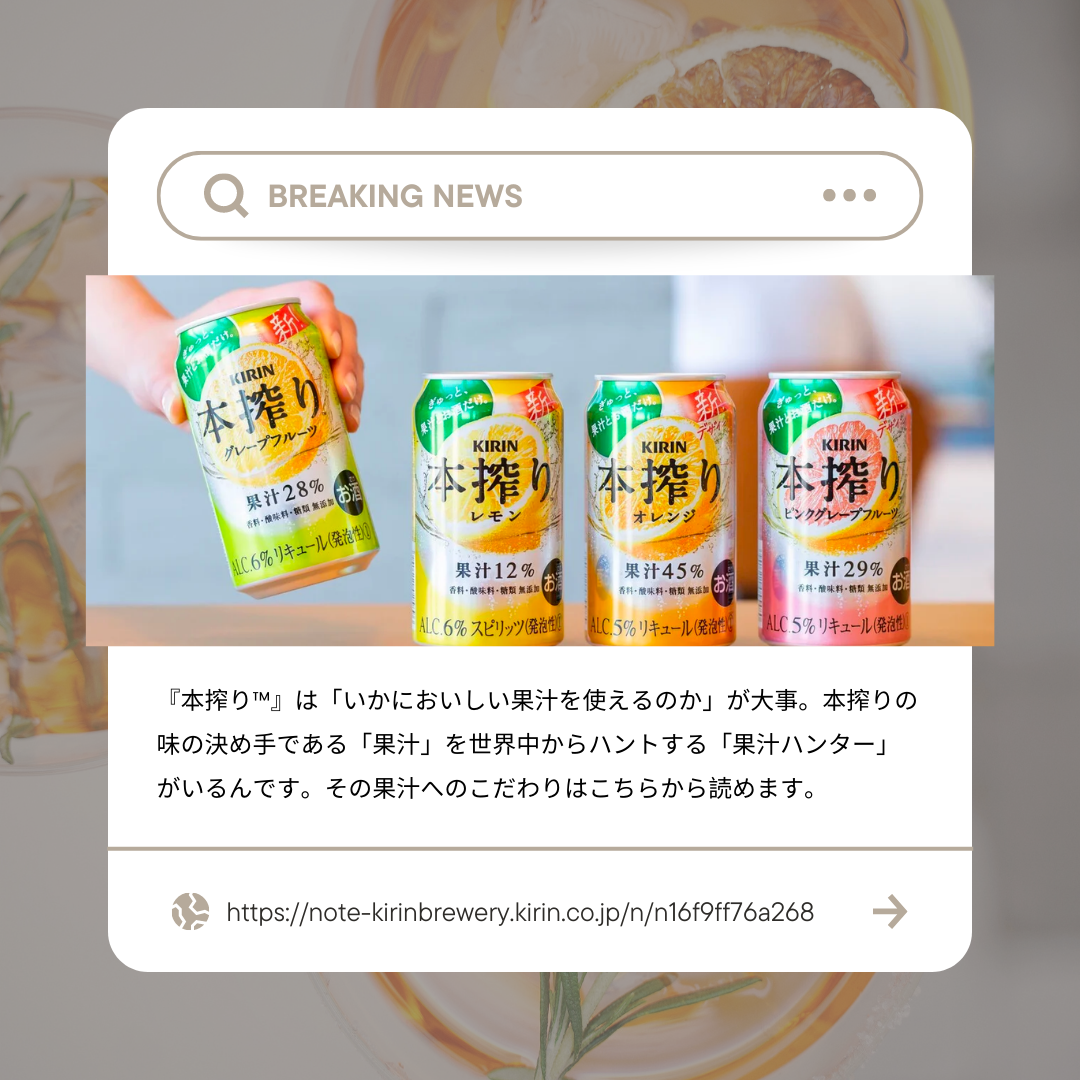 They share high-quality and engaging content mainly in text format, including stories related to their products, the company's values, employees' working environment, and introductions to their corporate social responsibility (CSR) activities. It is evident that they prioritize two-way communication with users, rather than simply broadcasting information unilaterally. This approach adds to the appeal of their content.
To Sum It Up
There are several social medias you can use in order to increase your brand presence in Japan. In this blog, we covered all widely-used social media platforms which includes Instagram, Facebook, Twitter, LINE, TikTok, YouTube and note.
It's important to find which one of social media suits your brand most and kick off the start with the platform that can benefit you most. By picking the right platform and delivering the right and valuable contents that resonate your target audience, businesses can undoubtedly establish a winning strategy for their Japan market expansion plan.
---
About Ship&co
Ship&co is a global shipping platform designed by and for e-commerce sellers. Created by the team behind Bento&co, who have been selling on Shopify since 2008, Ship&co provides a simple and easy-to-use web dashboard and shipping API. Ship&co helps online sellers ship packages faster by automatically syncing orders and creating shipping labels and invoices in minutes. With Ship&co, you can create shipping labels for FedEx, UPS, DHL, NinjaVan, Yamato, Sagawa, and more, with just two clicks to complete the process and mark your orders as shipped. For more information on Ship&co, visit shipandco.com or reach out to us via hello@shipandco.com !