In the previous article, we talked about things international brands need to know before expanding to Japan and top social media platforms to increase your brand presence in Japan.
Today, we've got an overview of payment services used in ecommerce site. This will help you understand more about Japan and kick off your ecommerce business with success!
Let's dive in!
Overview of Japan's Payment Methods
In Japan, you'll find a variety of widely used payment services on e-commerce sites, including:
Credit Card Payment
Convenience Store Payment
Mobile Carrier Payment
Cash on Delivery
Bank Transfer
But that's not all. New and popular payment methods like QR code payment and BNPL (Buy Now Pay Later) have also been gaining attention in recent years.
From here on, we will walk you through the characteristics of each payment method available in ecommerce sites in Japan.
Credit Card Payment (クレジットカード決済)
Japanese shoppers use credit card more often than any other payment method. Based on the nation's cashless transaction data in 2022, card payment made up to 93.8% of cashless payment types, making it the most common transaction.
When taking a look at card scheme breakdown from IPSOS's 2022 cashless payments survey, we found Visa ranked highest in popularity at 50.8%, followed by JCB* at 28% and Mastercard at 17.8%. Meanwhile, other credit cards covering 3.4% are relatively lower in terms of usage.
*JCB is a major credit card brand based in Japan, widely recognized and accepted both domestically and internationally.
Shopify in Japan has expanding its payment options to accept JCB since 2020. So if you're an e-commerce entrepreneur using Shopify in Japan, you can effortlessly enable JCB card payments for your customers.
Convenience Store Payment (コンビニ決済)
In Japan, "konbini" (convenience stores) allow customers to pay their bills and make online purchases using cash, making it a safe and fast option. Japan has several convenience store chains like FamilyMart, Lawson, Ministop, and Seicomart across the country.
If you're looking to enter the Japanese market and provide your customers with a smooth checkout experience, utilizing konbini services is one of the best way to go.
Good example here is Amazon Japan. They offer convenience store payment at Seven-eleven, Lawson, Ministop, DailyYamasaki, and Seicomart.
Mobile Carrier Payment (キャリア決済)
Mobile Carrier billings are convenient payment services that enable customers to pay for products and other expenses along with their mobile phone charges, using their carrier's ID and password for authentication.
By using this cellular carrier payments, customers can easily make purchases with their smartphones, enhancing the overall convenience. Instead of dealing with individual applications and accounting processes for each carrier, merchants can streamline the process by contracting with us, allowing for consolidation of payment methods.
In Japan, mobile carrier payments are offered by three main carriers: SoftBank Collective Payment, d Payment, and au Easy Payment. To enable carrier billing on Shopify, you can integrate with either GMO Epsilon or SB Payment Service.
Cash on Delivery Payment (代金交換 / 代引き)
Cash on delivery payment, also known as "Daibiki" payment have been one of the most popular payment method in Japan. This service allows customers to pay the delivery person with cash when the goods are delivered to the shipping carrier.
The reason Japanese buyers choose cash on delivery is due to the overwhelming sense of security it provides. On the payment screen of an e-commerce site, they do not need to enter credit card information, ensuring peace of mind regarding security. Even when credit card payment is made during cash on delivery, customer information is promptly deleted after the transaction to ensure robust data protection.
Ecommerce sellers can offer this payment method through shipping carriers like Yamato Transport, Sagawa Express, and Japan Post.
However, when looking at the trend from 2018 to 2020, we observed a slight decline in the popularity of Cash on Delivery (Daibiki) as other payment methods have gained traction. The usage percentage of Daibiki has decreased from 31% to 24.8%, but it continues to command a significant share of overall payment methods for e-commerce stores.
Bank/ATM Transfer (銀行振込)
Bank transfer is a payment method where customers pay for goods or services by making transfers at banks, post offices, ATMs, and similar facilities.
As it has been in use for a long time, it is particularly familiar to the senior generation, with customers aged 75 and above accounting for 40.8% and customers aged 80 and above comprising 42.6% of the overall usage rate in 2020.
For e-commerce sites targeting the senior market, introducing bank transfer as a payment option is highly recommended.
QR Code Payment (QRコード決済)
QR code payment is a contactless payment trend that have made great strides over the last few years, starting from 2018. From store point cards to mobile apps, you can easily go out without needing cash or coins.
Although it is primarily intended for use in physical stores, it can be used with any smartphone model, making it easy to make payments by simply scanning the QR code using a payment app.
Popular payment apps in Japan include PayPay, LinePay, and R Pay (Rakuten). And Shopify in Japan supports payment via PayPay and Rakuten Pay at the checkout.
Buy Now Pay Later
BNPL, short for Buy Now Pay Later, is a service that allows you to make consolidated payments for purchases made in the current month on a later date.
It is explained to be an emerged version of "post-payment settlement/deferred payment services" which is widely used in Japan even before the the widespread adoption of BNPL services.
In Japan, the preference for post-payment settlement stems more from the desire for a secure and worry-free payment experience after physically seeing the product, rather than a specific need for installment payments like in other countries.
Similar services to BNPL, such as "NP Postpaid (NP後払い)" and "Merpay Smart Postpaid (メルペイスマート後払い)," have gained popularity in Japan. One of the leading BNPL providers in the country, Paidy (ペイディ), offers fee-free installment payments.
Based on Yano Economic Research Institute, the BNPL market is experiencing growth in Japan and worldwide. In 2020, the domestic market reached over 880 billion yen, and it is predicted to expand to 1.8 trillion yen by 2024, indicating untapped potential among users in Japan.
Key Insights: QR Code Payment Rises In Popularity for Ecommerce
According to the graph below, based on a consumer survey conducted by our company previously, credit card payment usage overwhelmingly dominates the results.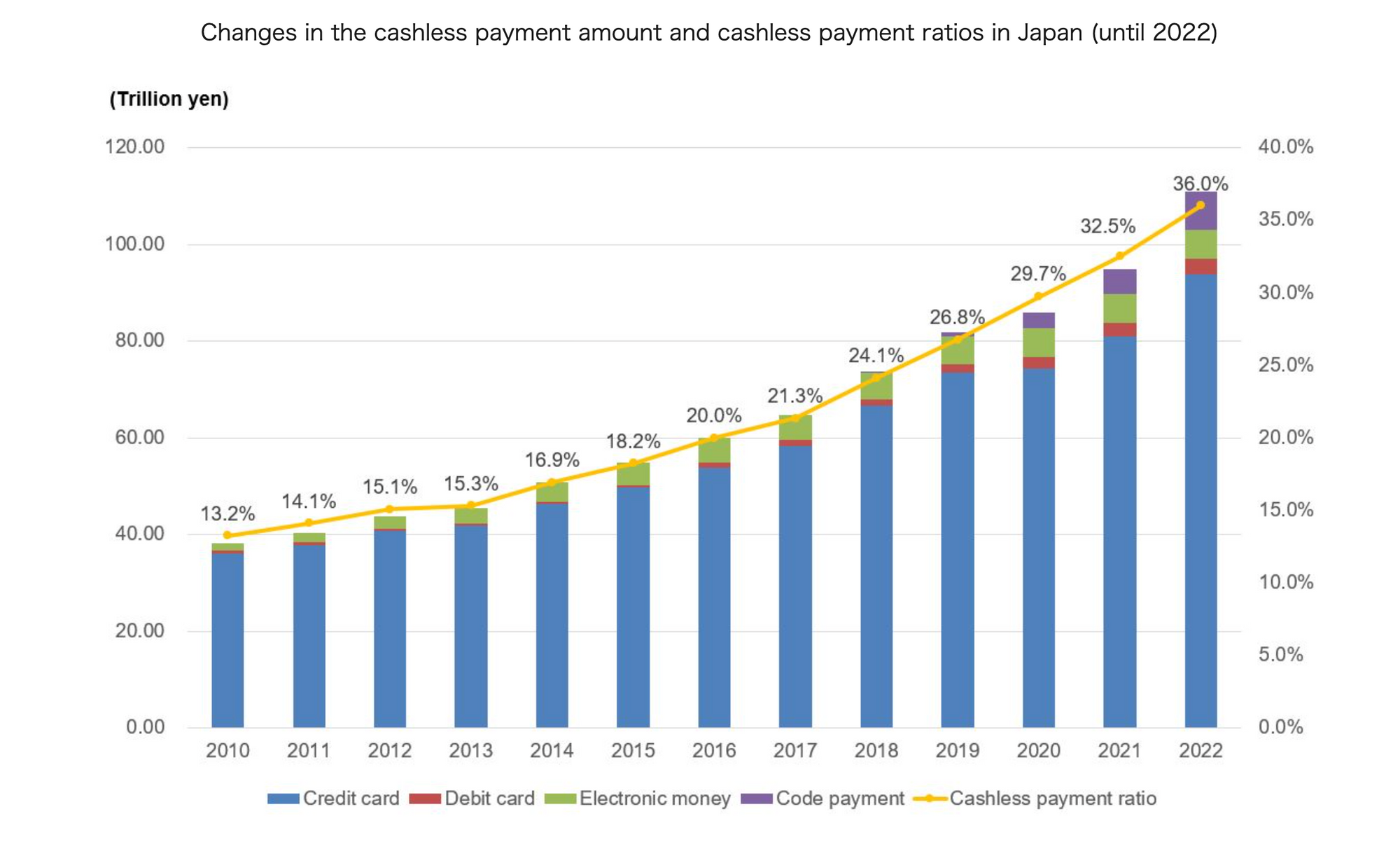 Question is... apart from credit cards, are there any payment methods you should consider to support for your ecommerce site in order to remain competitive?
Credit card payment ratios hold the top spot of overall payment. QR Code payment come in second in term of both adoption rate and growth.
Next, let's take a look at SB payment's survey on the most commonly used payment methods for purchasing goods or digital content on e-commerce sites.
A remarkable 60% of shoppers from both genders prefer "credit card payment" as their top choice. Following closely are mobile payment options, with "PayPay" at 24% and "Rakuten Pay" at 12%.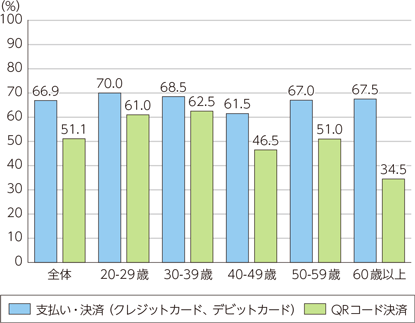 The survey from MIC showed that a whopping 66.9% of people love using credit cards and debit cards for payments. No matter the age group, around 70%, enjoys the convenience of these payment options.
Now, let's talk about QR code payments.
A solid 51.1% of people use this payment. The younger crowd, especially those aged 30 to 39 (62.5%) and 20 to 29 (61.0%), are adopting this method. As age goes up, the numbers gently decrease, but it's still a choice for many.
To Sum it Up
As an e-commerce operator, streamlining operations by consolidating payment methods like credit card payments can be convenient. However, limiting payment options can create bottlenecks when aiming for higher sales.
Therefore, it is essential for e-commerce businesses to assess the attributes of their target customers and consider diversifying payment methods. When using virtual accounts and other solutions, utilizing payment service providers can reduce operational burdens and strike a balance between budget and effort.
---
About Ship&co
Ship&co is a global shipping platform designed by and for e-commerce sellers. Created by the team behind Bento&co, who have been selling on Shopify since 2008, Ship&co provides a simple and easy-to-use web dashboard and shipping API. Ship&co helps online sellers ship packages faster by automatically syncing orders and creating shipping labels and invoices in minutes. With Ship&co, you can create shipping labels for FedEx, UPS, DHL, NinjaVan, Yamato, Sagawa, and more, with just two clicks to complete the process and mark your orders as shipped. For more information on Ship&co, visit shipandco.com or reach out to us via hello@shipandco.com !