If you are here, we assume that you understand the fundamentals of shipping in Japan like what is Kuroneko Yamato, what kind of service Sagawa Express offer, and how to get a Yubin Biz card from Japan Post.
If not, before jumping to this article, we recommend you to check our previous article in Shipping in Japan 101 series.
Part 1 - Shipping in Japan 101: How to ship with Yamato Transport
Part 2 - Shipping in Japan 101: How to ship with Sagawa Express
Part 3 - Shipping in Japan 101: How to ship with Japan Post
Below, we are going to take a look at another way to connect with shipping carriers in Japan with your eCommerce shop through the API integration. We will explain how developers can integrate fast with Yamato Transport, Sagawa Express, and Japan Post through Ship&co powerful shipping API.
This article will help you jumpstart you success and take your business expansion in Japan to the next level !
Ship&co's Shipping API: connect easier with Yamato, Sagawa, Japan Post
Ship&co's Shipping API is a Rest APIs that helps you through the entire shipping management process across 10-plus shipping carriers, printing labels and tracking your shipments in Japan.
Multi-carrier Shipping API
Ship&co's Shipping API is the only shipping API that connects with three major carriers in Japan - Yamato Transport API, Sagawa Express API and Japan Post API. Plus, connect with several international shipping carrier API including FedEx API, UPS API and DHL Express API.
Ship&co provides a multi-carrier shipping API cover shipping globally, regardless of your warehouse location.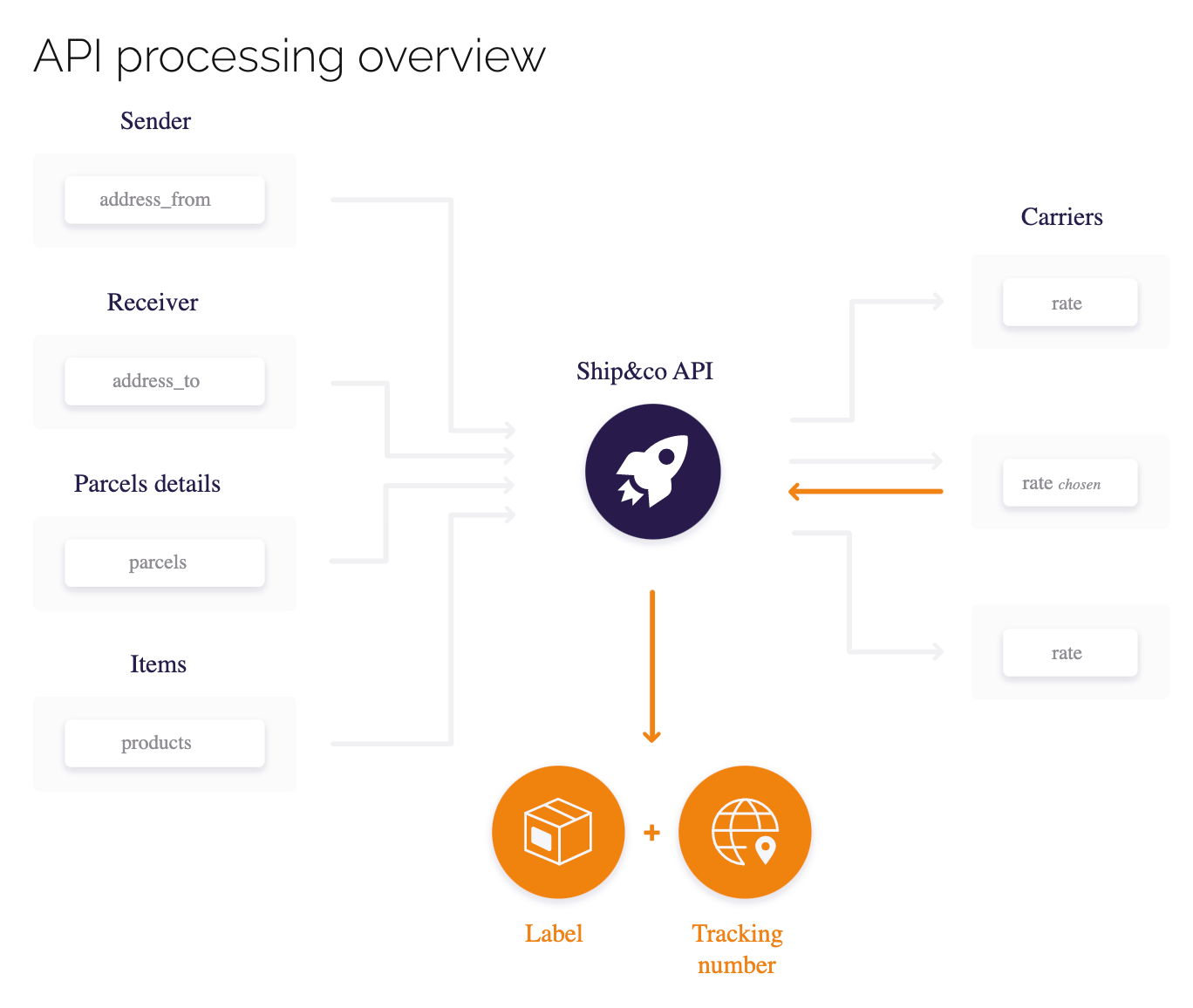 Why integrate with Ship&co's Shipping API for Sagawa, Yamato and Japan Post.
Ship&co helps international business become closer to Japan, making the business expansion to Japan much more easier.
1. Instant Integration with no the maintenance costs
With Ship&co's Shipping API, no need to waste time on reviewing complicated API documents from Japanese carrier which is available only in Japanese.
They aren't easy, let us take care of it.
Ship&co's Shipping API helps save the maintenance costs and time spent for troubleshooting of system so that you can focus more on new business opportunities.
2. One Shipping API to connect to Japan carriers
Ship&co's multi-carrier Shipping API, to connect you to multiple domestic carriers in Japan while allowing you to sync with several international carriers worldwide to optimize the shipping process management.
No additional cost when using several shipping carriers. Shipping with Yamato Transport, Sagawa Express, Japan Post will be easier by integrating with Ship&co's Shipping API.
3. Safer & Faster Shipping
Integration with Ship&co's Shipping API make it possible to manage shipments from more than 30 different locations in Japan within your system.
Each locations can use their own carrier account through Ship&co and ship orders faster. As a large organization, managing data within their own system help them reduce the concerns on data privacy.
What features can you build with Ship&co's Shipping API?
Ship&co's Shipping API is built for eCommerce brands, eCommerce platforms/marketplace, logistic solutions, 3PL and others with high flexibility of use.
Here are some example of the features:
Ship Packages Using Domestic Carriers in Japan
Track Packages In Japan With Our Shipment Tracking API
How to get started with Ship&co's Shipping API?
If you are new to API Integration, make sure to look into the Ship&co API documentation to get started.
Ship&co API Setup

Add the API Token from your Ship&co account to HTTP headers as follows enables you to use the API.
x-access-token: YOUR_API_TOKEN_FROM_DASHBOARD
That's how you authenticate yourself to use Ship&co's Shipping API.
Then, you can either use a test environment or production environment to make some tests. See this for how to create shipment and be sure to check the sample code if you are not familiar with a Japanese address.
Easily connect your system with Ship&co's Shipping API to scale up your shipping power
Ship&co will help you get instant access to Yamato Transport, Sagawa Express and Japan Post shipping power and manage shipping process right from your system. Simplify shipping in Japan with Ship&co ! Start now with a 14-day free trial (without a credit card) !
---
About Ship&co
Ship&co is a global shipping platform designed by and for e-commerce sellers. Created by the team behind Bento&co, who have been selling on Shopify since 2008, Ship&co provides a simple and easy-to-use web dashboard and shipping API. Ship&co helps online sellers ship packages faster by automatically syncing orders and creating shipping labels and invoices in minutes. With Ship&co, you can create shipping labels for FedEx, UPS, DHL, NinjaVan, Yamato, Sagawa, and more, with just two clicks to complete the process and mark your orders as shipped. For more information on Ship&co, visit shipandco.com or reach out to us via hello@shipandco.com !