With about 1.7 billion people or 20% of the global population forced to stay at home under lockdown, it seems intuitive that the eCommerce sector will experience significant growth. However, the reality is more complex than that.
The Outlook Among E-tailers
A survey of 304 retailers done by media and research organization, Digital Commerce 360, showed that e-tailers were somewhat divided on the impact that COVID-19 would have on their businesses.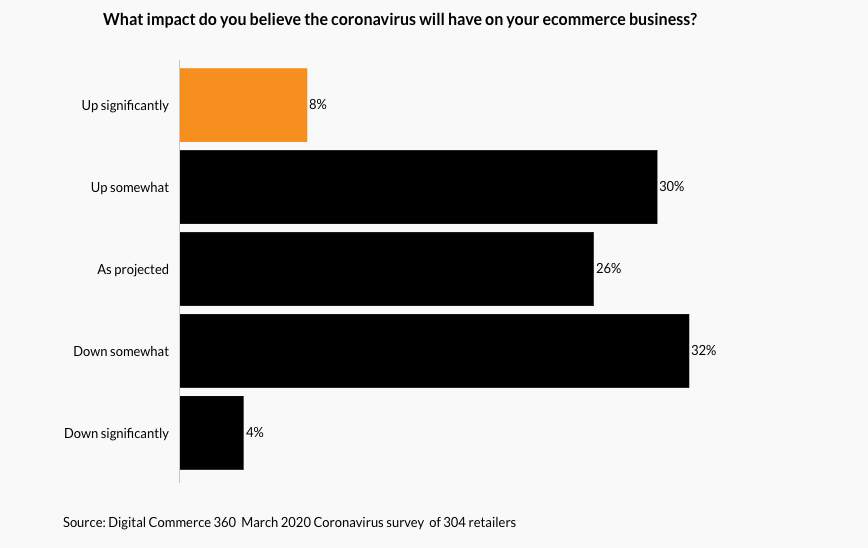 While 38% believed that their companies would be positively impacted, the other 62% felt that their growth would either be flat or decline. If these results are anything to go by, those in the eCommerce sector are experiencing just as much uncertainty and confusion over the fate of their businesses as other industries. Among some of the possible reasons for the negative outlook are supply chain disruptions due to factory closures, and an overall decrease in consumer demand.
This global pandemic has caused a world that is constantly buzzing and moving to stop in its tracks. With governments issuing stay-at-home decrees to its citizens, everyone has been forced to pause, reflect, and reset. Have your sales been affected by COVID-19? It's not the end until you give up. Here's what you can do to be productive during this downtime instead.
Reinvent yourself
With lesser orders keeping you busy, this is a good time to think about giving your online store a new look or even rebranding altogether. Consider your target audience, have you managed to reach them?
Analyze your customers' profiles and evaluate whether you have met the objectives you made for your business when you started out. If you have, perhaps you should think about how you can add value to your current offerings. If you haven't, segment your market, identify your target market, develop buyer personas and think about how you can improve your buyers' journeys. Put yourself in your customers' shoes, would you buy from you?
Re-evaluate your workflow
Do you feel as if your company has been performing sub-optimally? Use this time to think about how you can improve your processes and function more efficiently. There is always room for improvement.
Identify the problems with your online sales channels and rectify them. Check that product descriptions are informative and accurate, all links are working, and most importantly, that your website is easy to navigate. If your online store has cart, booking, or browsing abandonment issues, now's the time to fix them!
Time to Diversify
If you've been putting all your eggs into one basket, you might want to think about how you can diversify your business- What else can you do with your current resources?
Another thing to consider is how you could redirect your budget. For example, during this time, you might want to allocate more of your advertising budget into video platforms such as TV or YouTube as more people are at home and tuning in to the news more frequently. Be innovative and think out of the box!
Don't hold flash sales
Delivery personnel and warehouse workers are just some of the unsung heroes in this global crisis and it is not fair to put their wellbeing at risk to boost your earnings. While it is tempting to use this tactic to drive sales at a time when most people are staying at home, refrain from doing it until this pandemic is over.
Conclusion
You have probably already implemented crisis response measures for your company to weather this storm. If this is a quiet time for your business, take the opportunity to do post-recovery planning. Have a look here for some ideas!
These are tough times, but we are all in this together. As the saying goes, "calm seas never made a good sailor", we will all emerge from this tougher, stronger and better.
---
About Ship&co
Ship&co is a global shipping platform designed by and for e-commerce sellers. Created by the team behind Bento&co, who have been selling on Shopify since 2008, Ship&co provides a simple and easy-to-use web dashboard and shipping API. Ship&co helps online sellers ship packages faster by automatically syncing orders and creating shipping labels and invoices in minutes. With Ship&co, you can create shipping labels for FedEx, UPS, DHL, NinjaVan, Yamato, Sagawa, and more, with just two clicks to complete the process and mark your orders as shipped. For more information on Ship&co, visit shipandco.com or reach out to us via hello@shipandco.com !