If you are managing your online store in Japan using WooCommerce,  integrating local shipping carriers is crucial.
It is a great way to easily and efficiently manage all the shipping for your WordPress site. However, most WooCommerce store owners in Japan are struggling with finding a good solution to help them integrate Yamato, Sagawa, and Japan Post and creating shipping labels that they can use to ship products to their customers in Japan.
So in this article, we will talk about Ship&co, an only plugin to integrate Japanese carriers to your WordPress site. Stay with us and learn how it easy to use this plugin for your WooCommerce store.
Let's begin!
WooCommerce Japanese Carrier Shipping Plugin
Ship&co offers a shipping software and a RESTful API for shipping. Apart from FedEx, DHL, and UPS, Ship&co supports shipping for Japanese carriers, such as Yamato Transport, Sagawa Express, and Japan Post.
WooCommerce shipping plugin provided by Ship&co helps you print a shipping labels for Japanese carriers – no more manually copying-and-pasting order details from one screen to another.
Let's find more about the Japanese carriers supported by Ship&co:
1. Yamato Transport (Kuroneko Yamato)
Yamato Transport, known as Kuroneko Yamato, is a shipping carrier in Japan, ranked 1st in term of shipping ecommerce parcels.
You can find more about shipping with Yamato Transport here: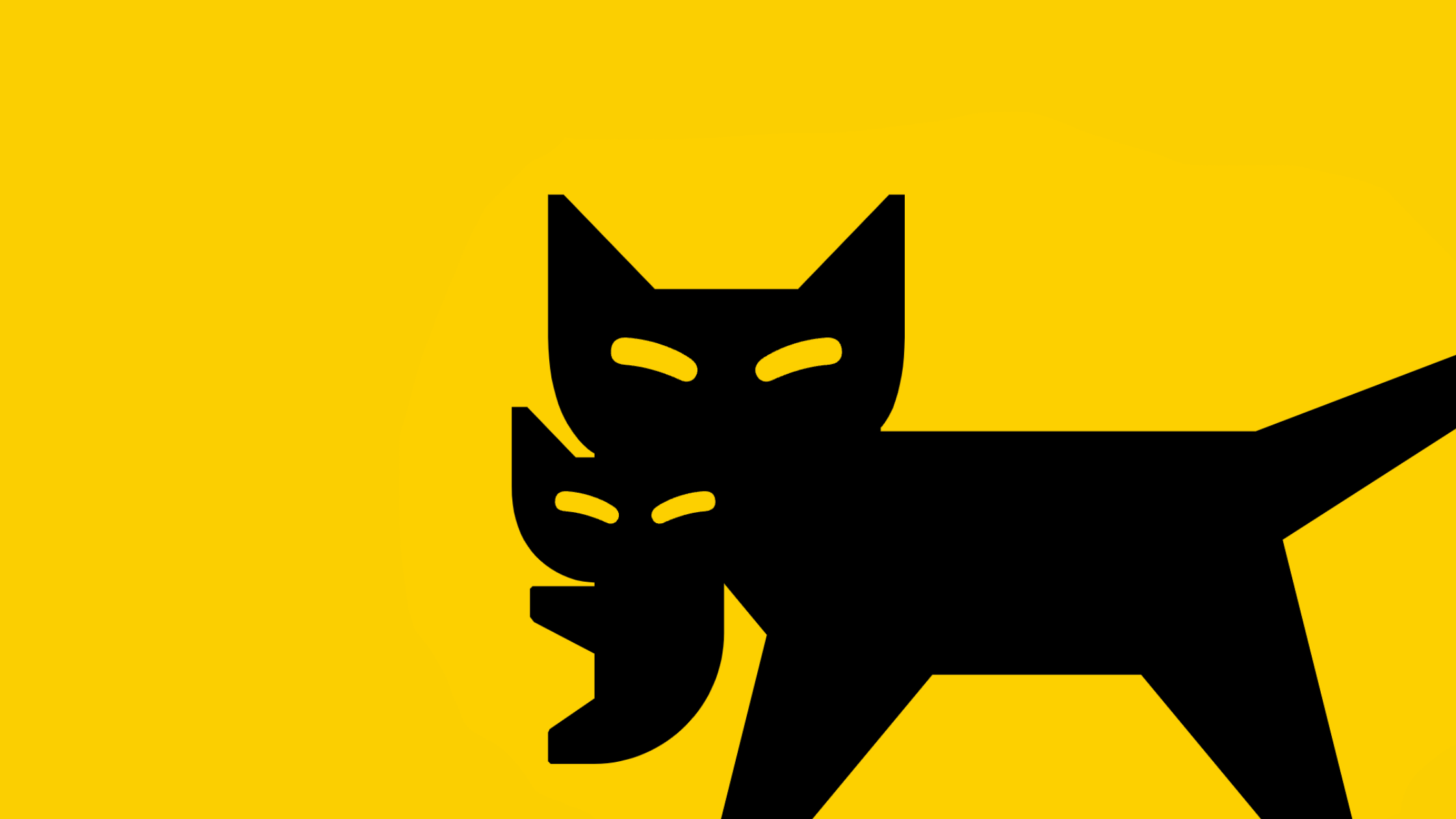 2. Sagawa Express
Sagawa Express is a major transportation company in Japan, offering comprehensive services to solve businesses' logistics issue, from both domestic and international parcel delivery to one-stop 3PL.
You can find more about shipping with Sagawa Express here: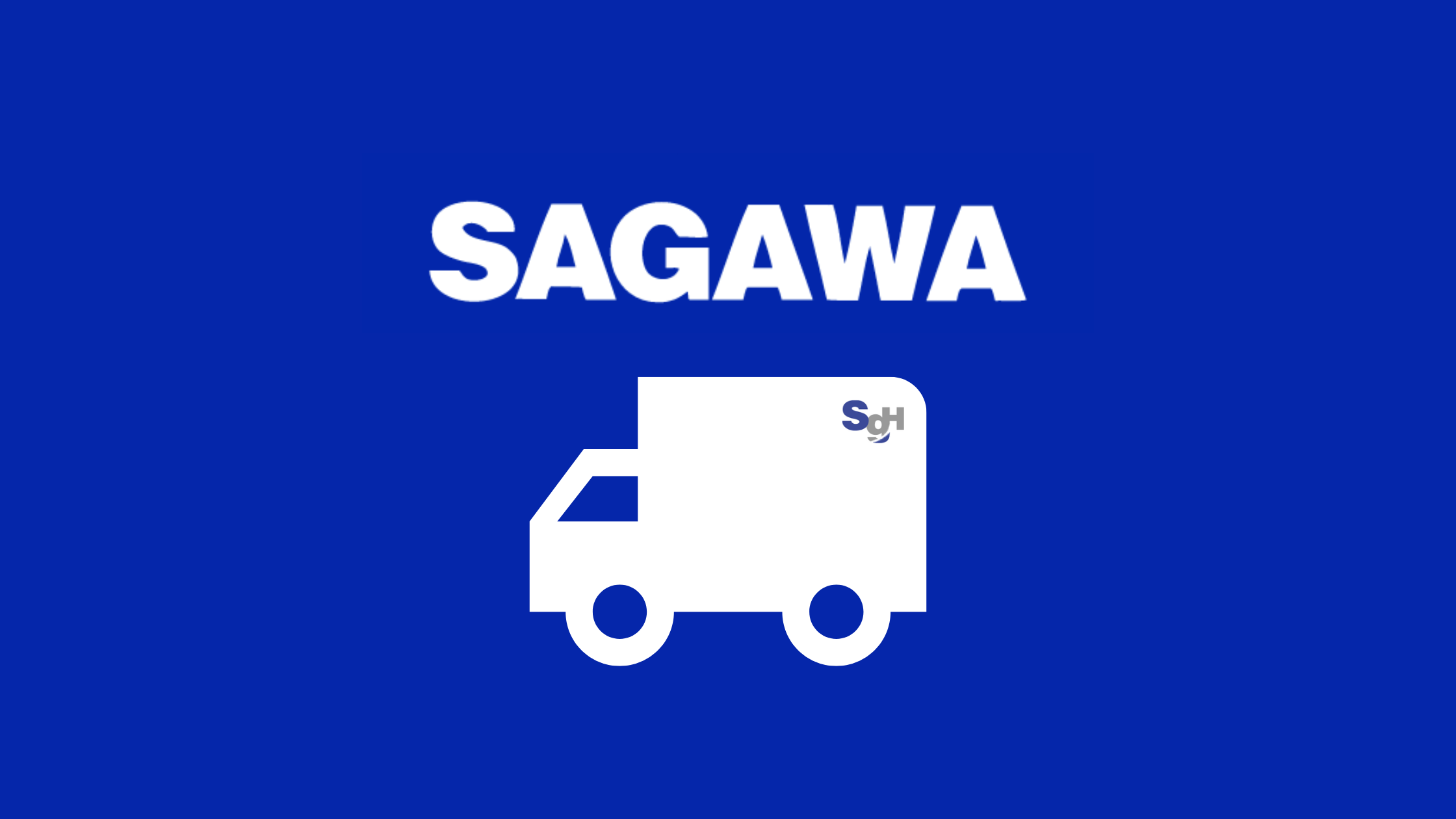 3. Japan Post Domestic and International
Japan Post (Nihon Yubin) is a Japan's national postal service provider. It offers a range of shipping options to suit different needs and budgets, including domestic and international delivery, express delivery, and economy shipping.
You can find more about shipping with Japan Post domestic service (Yu-pack & Yu-packet) here: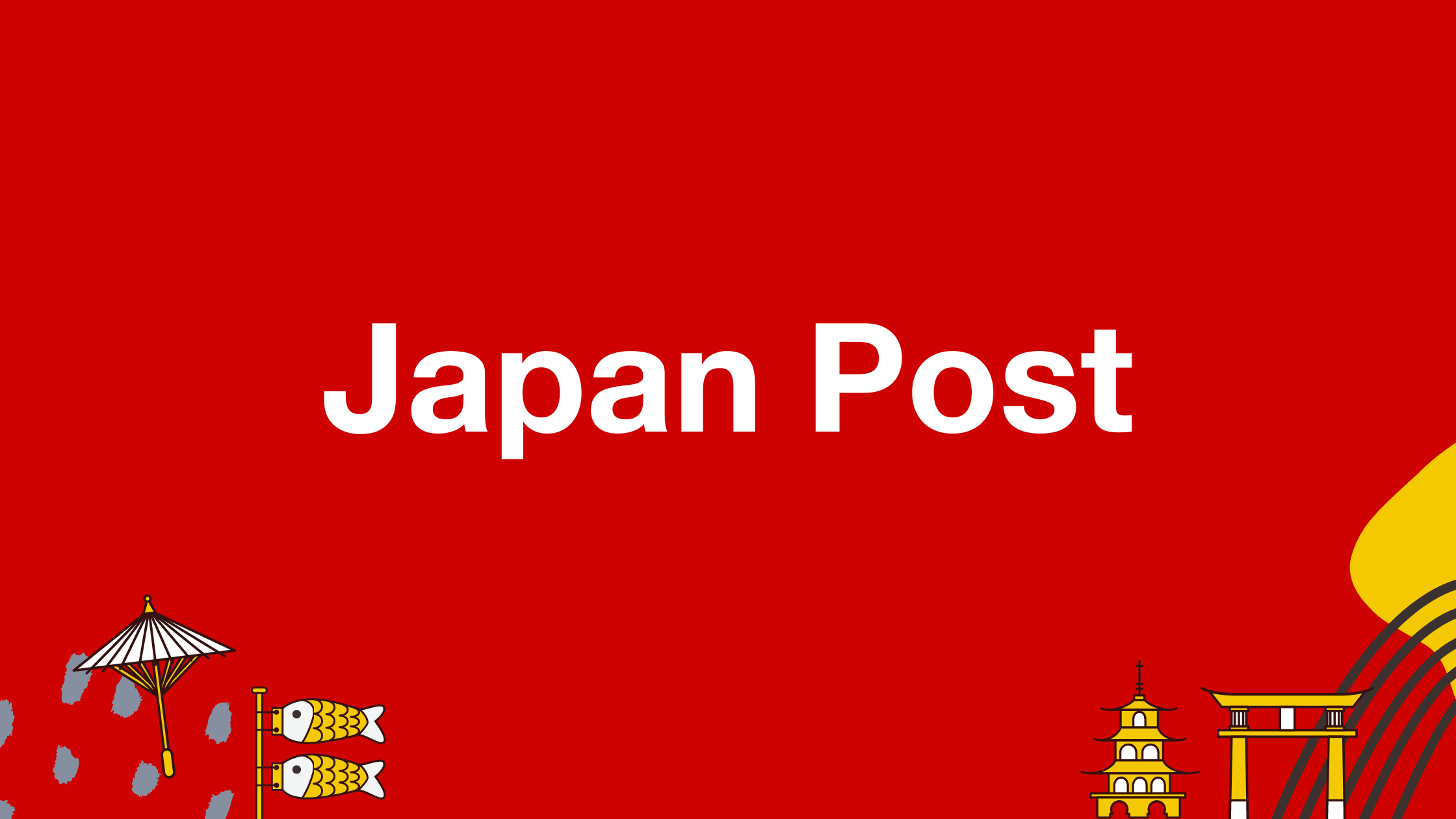 You can find more about shipping with Japan Post International Mail here: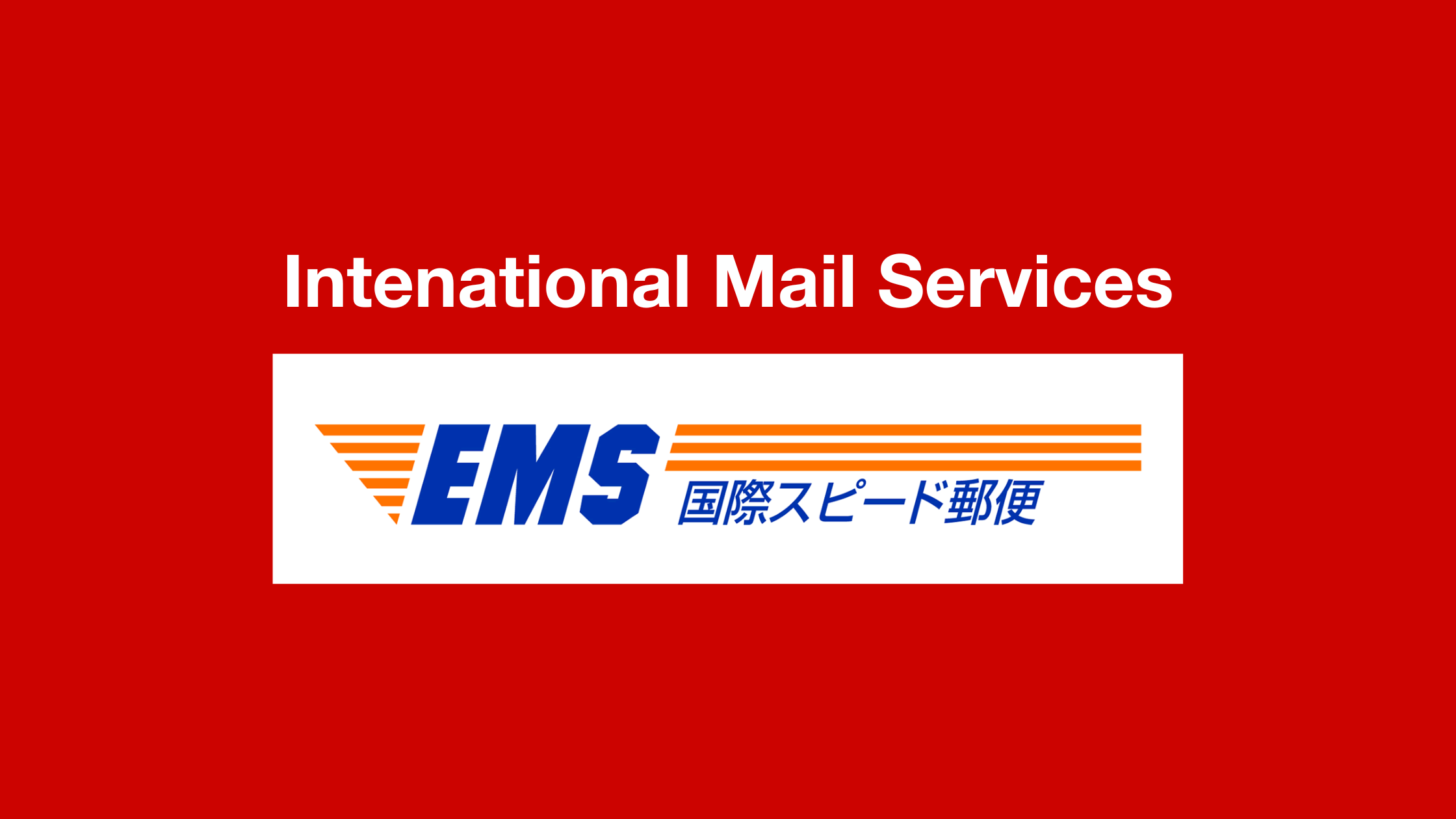 How to Print Yamato Shipping Label for WooCommerce orders
Now let's take a look at the steps to print Yamato Transport shipping labels for WooCommerce orders.
Step 1: Set up WooCommerce on Ship&co
Step 2: Add your Yamato Transport shipping account to Ship&co
Step 3: Print TA-Q-BIN shipping label and ship !
Let's look at these three steps in details:
1. Set up WooCommerce on Ship&co
First of all, you have to sign up for a Ship&co account in order to use Ship&co.
After verifying your account, you can move forward to set your profile, and warehouse location. See this video for how to set up Ship&co account.
Once your account is ready, you can access Shops page in Ship&co and link your WooCommerce shop to Ship&co using your WooCommerce URL, API consumer key, and API consumer secret, obtained from your WooCommerce dashboard.
To automatically fulfill and sync tracking number back to WooCommece as soon as the label is created, make sure tick on the "Automatically fulfill the order on WooCommerce" option in sync setting and save.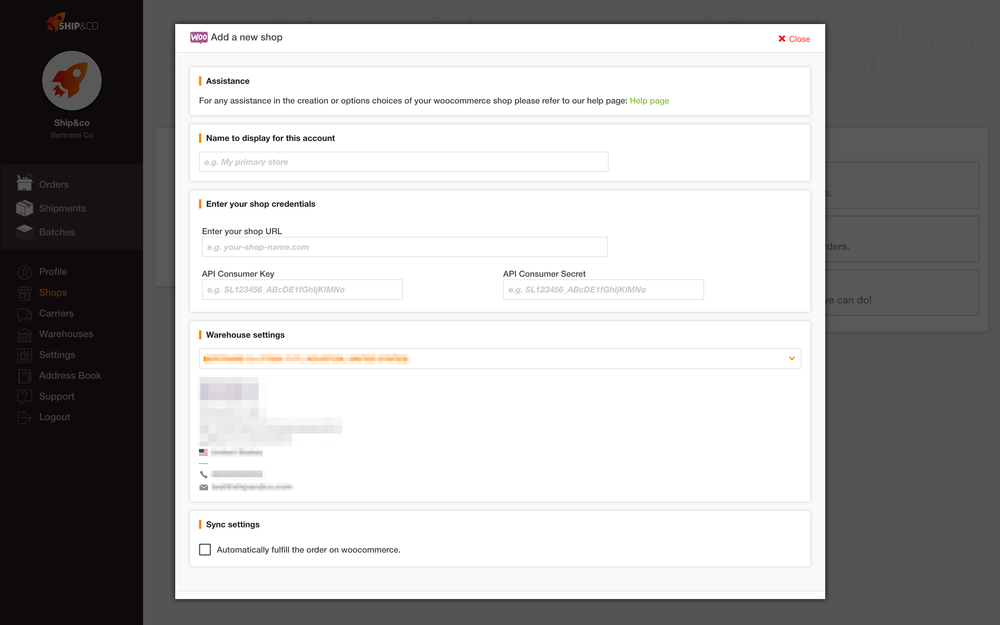 You can simply generate customer key and consumer secret by going to WooCommerce dashboard → Settings → Advanced → REST API and follow the below actions:
Click on "Add Key" button
Add a description for your requested key
Select a level of access for this API key to Read/Write access
Click on "Generate API Key"
*Find out more how to add WooCommerce to Ship&co.
2. Add your Yamato Transport shipping account to Ship&co
Once that your orders are synced, you can add your preferred shipping method to start printing labels. Ship&co allows you to use your own carrier contract to ship.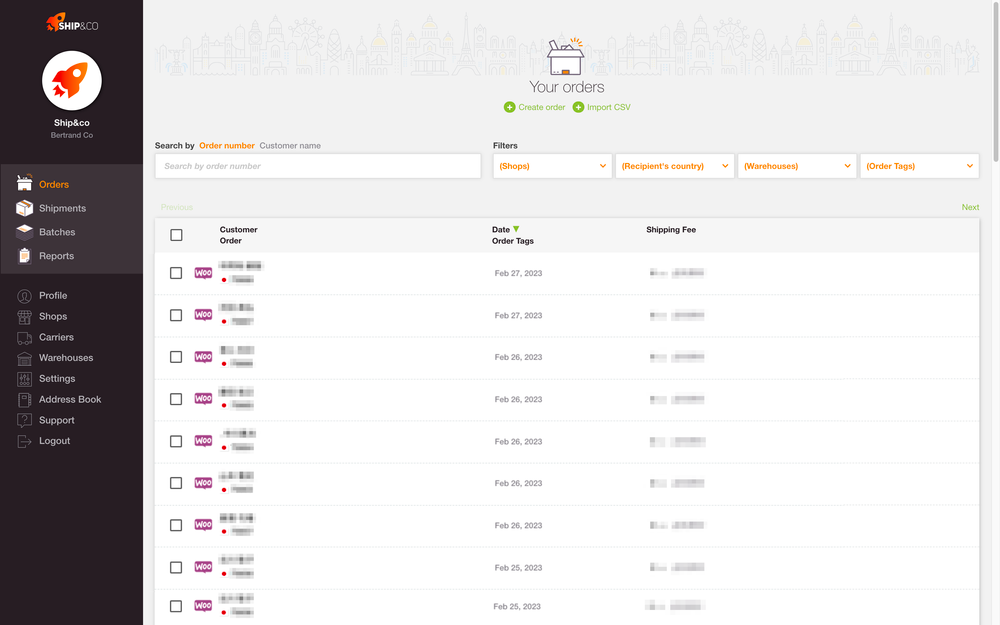 Get your Yamato account ready and find out more in this link for how to set up Yamato Transport in Ship&co.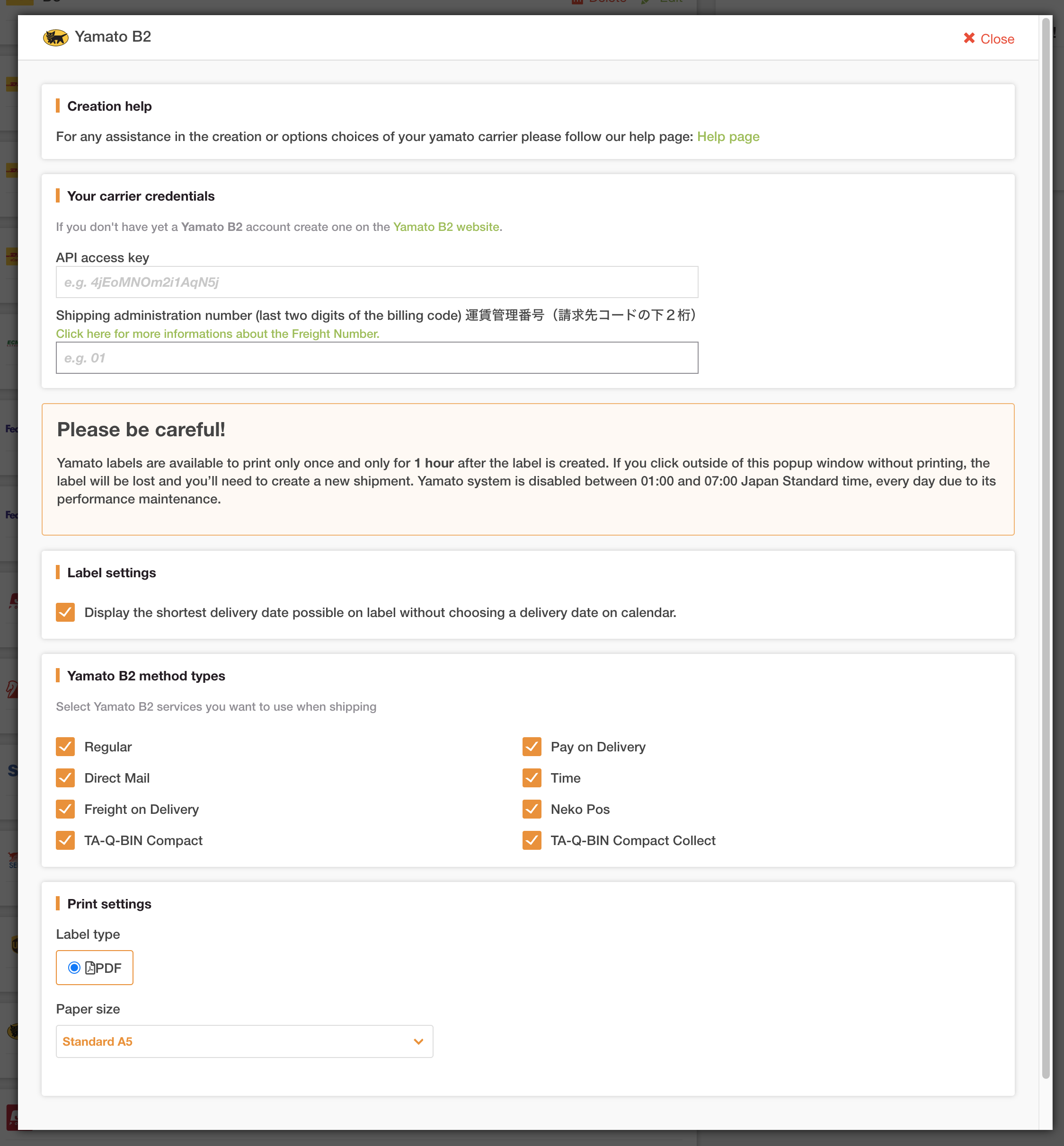 Quick Tip: To create shipping labels for Yamato, Sagawa and Japan Post, you will need an address in Japanese characters. Make sure to have your WordPress website supported Japanese address to ensure all address are accurately input. If the address is wrong, you will receive an error message in Ship&co and you need to correct it in order to create shipping label.
3. Print TA-Q-BIN shipping label and ship !
Click on order you want to ship and if you have multiple carriers registered inside Ship&co, select Yamato B2 as your shipping option.
In order page, you can set up all the required information to print shipping labels including service types, delivery date and time, and type of shipping (Regular, Prozen, or Chilled parcel). You can also ship a Cash on Delivery service of Yamato by selecting "Collect (宅急便コレクト)" service on your order page.
Make sure all shipment details are correct. Then, click "Printer" button on right-button side of the screen.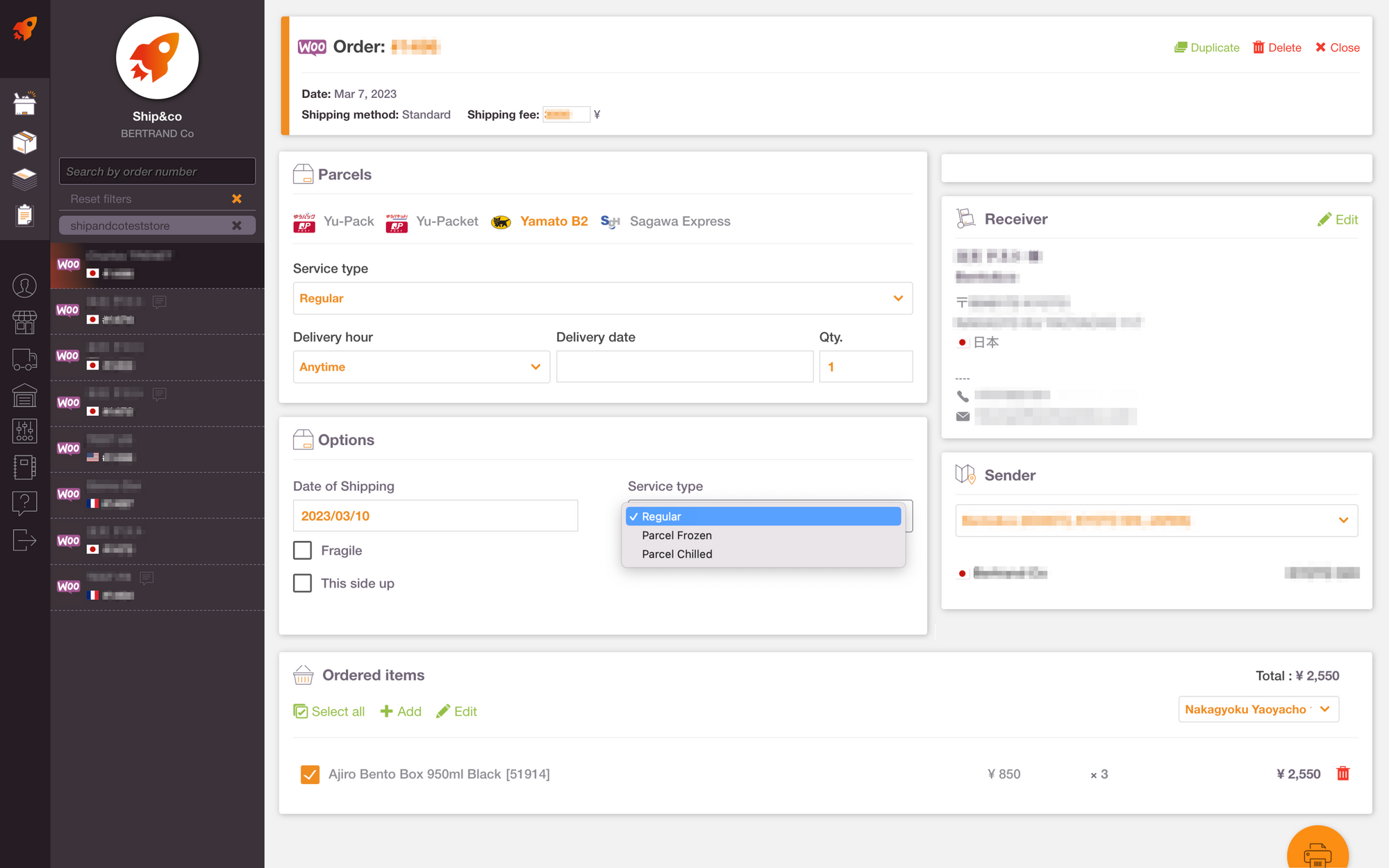 Now your Yamato TA-Q-BIN shipping label is successfully created. Ship&co automatically marks your WooCommerce order as "Completed" and adds tracking number to the order.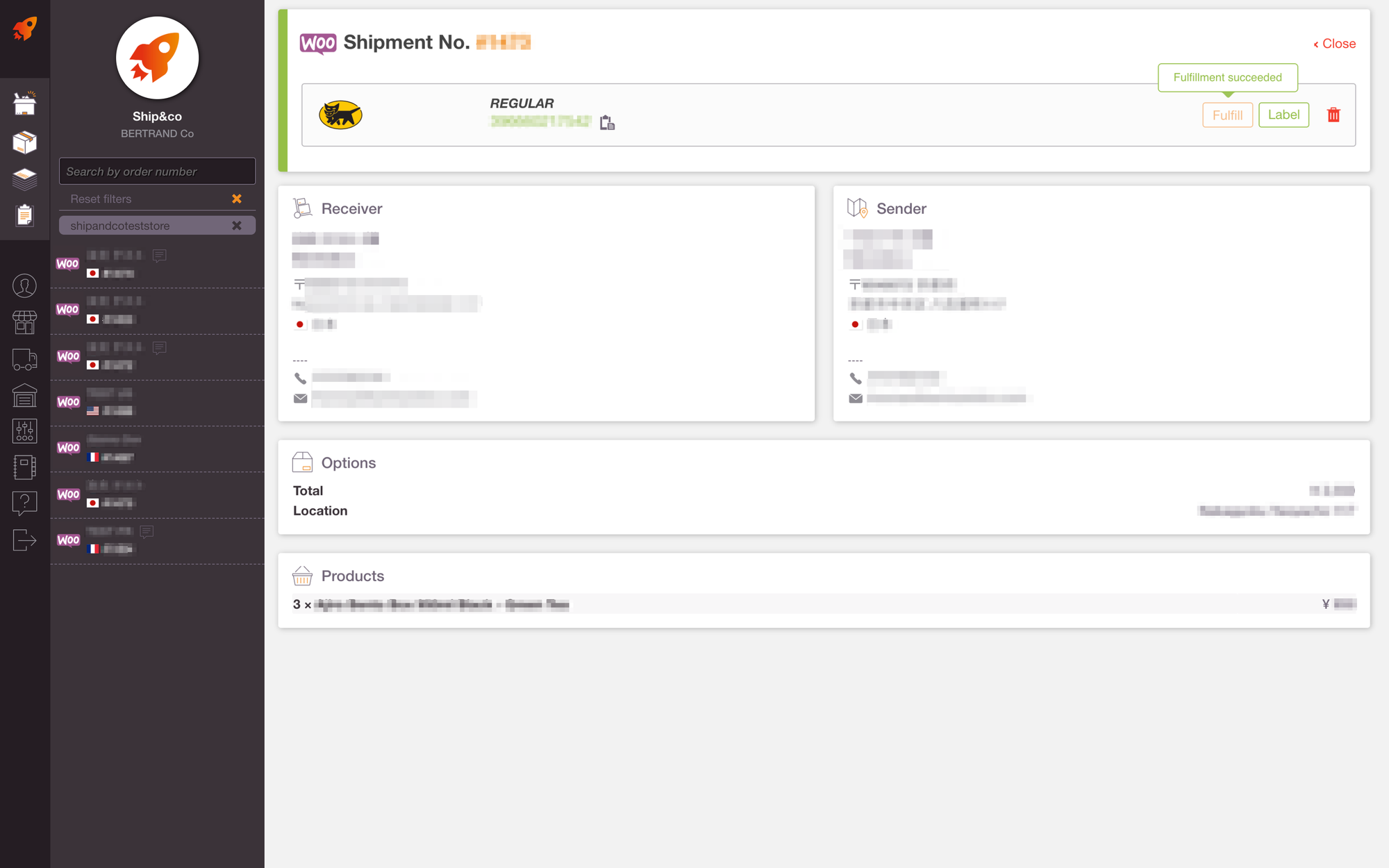 Lastly, click on "Label" button, print it out and ship your package !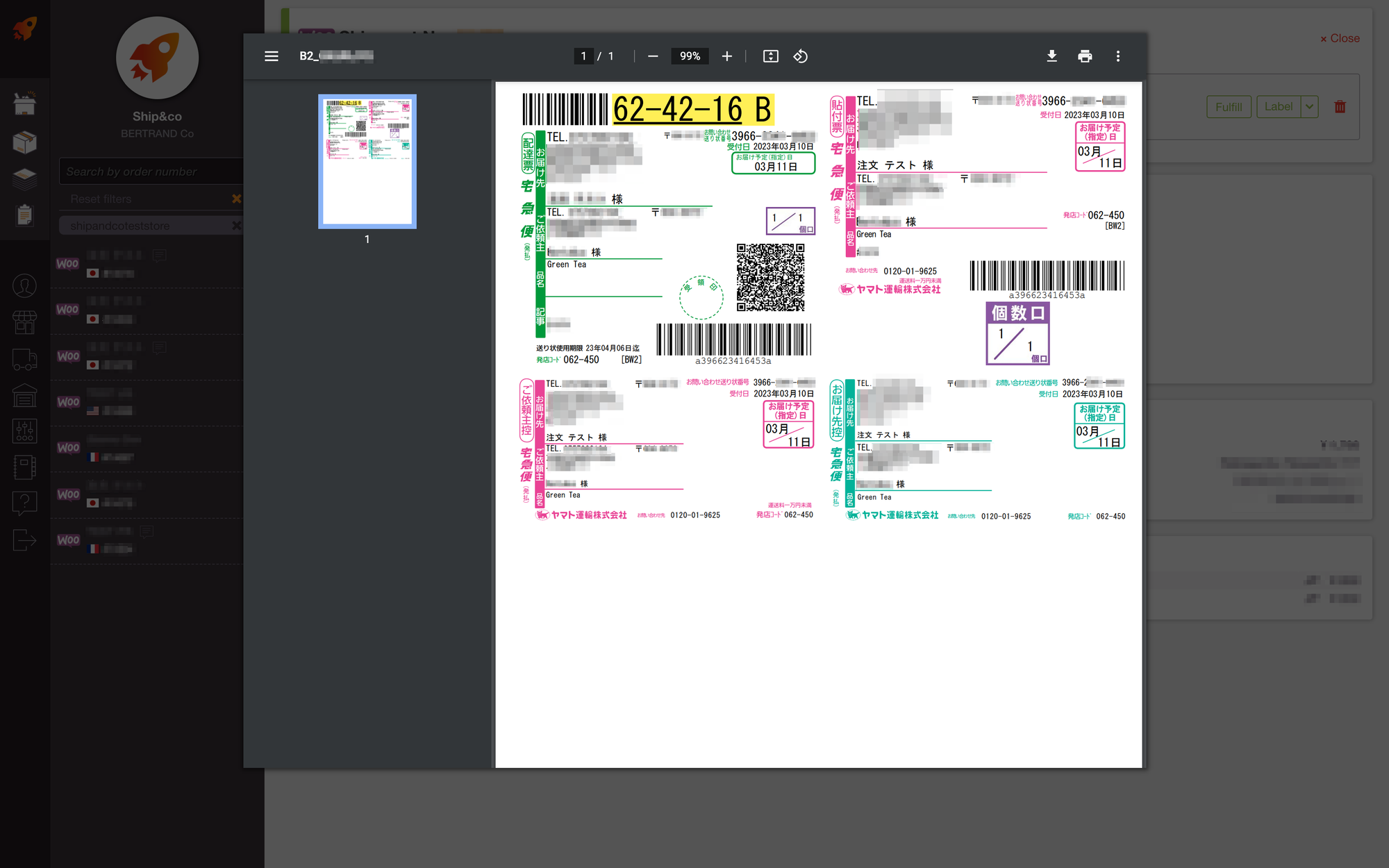 Apart from TA-Q-BIN service, Ship&co also support other shipping options including NEKOPOS (クロネコ) to send a small packet, TA-Q-BIN Compact (宅急便コンパクト), or Kuroneko DM-Bin (クロネコDM便).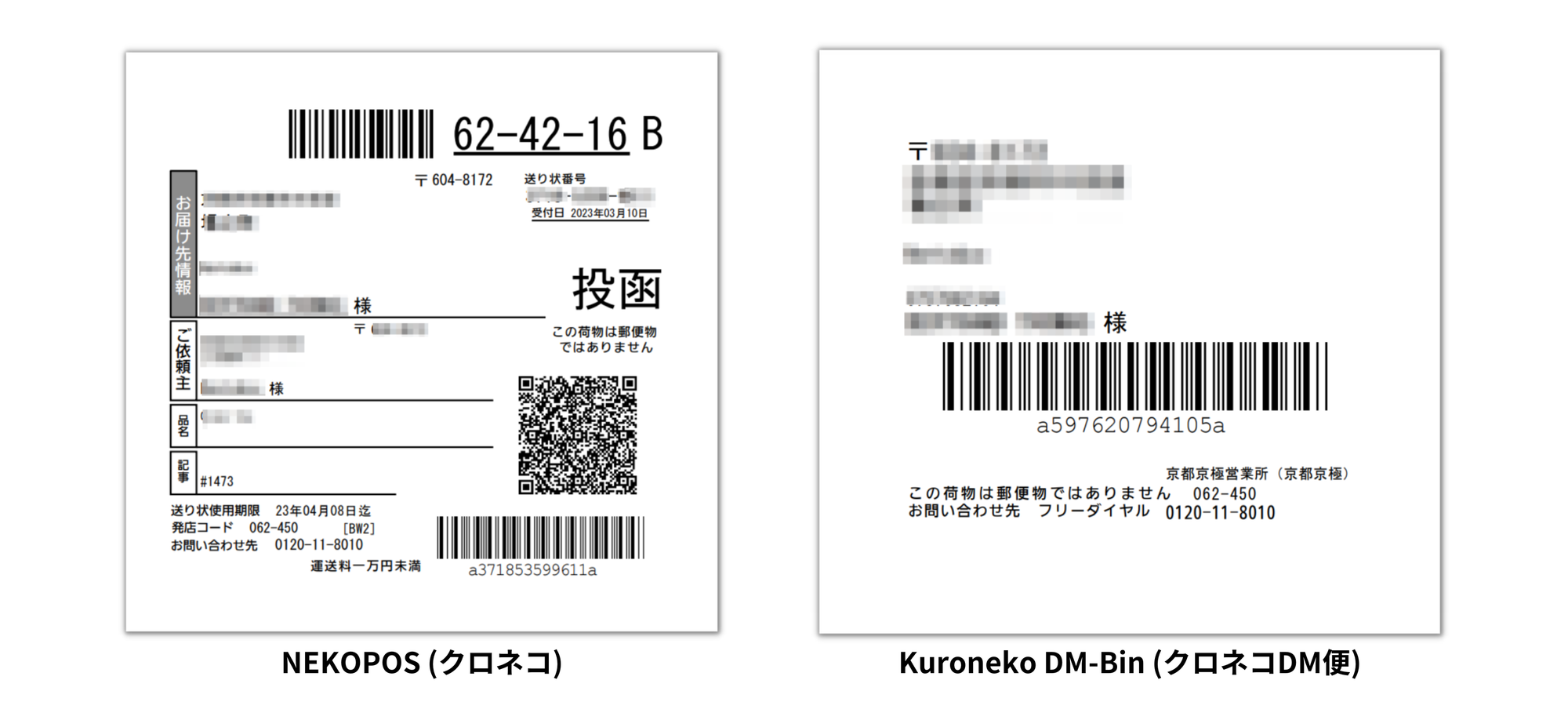 Conclusion
Shipping in Japan for your WooCommerce store requires you a specific tool to connect with local carriers like Yamato, Sagawa and Japan Post.
If you're looking for a localized shipping tool to streamline your WooCommerce shipping process, Ship&co offers a multi-carrier shipping plugin that can help you print shipping labels with little or no effort.
---
About Ship&co
Ship&co is a global shipping platform designed by and for e-commerce sellers. Created by the team behind Bento&co, who have been selling on Shopify since 2008, Ship&co provides a simple and easy-to-use web dashboard and shipping API. Ship&co helps online sellers ship packages faster by automatically syncing orders and creating shipping labels and invoices in minutes. With Ship&co, you can create shipping labels for FedEx, UPS, DHL, NinjaVan, Yamato, Sagawa, and more, with just two clicks to complete the process and mark your orders as shipped. For more information on Ship&co, visit shipandco.com or reach out to us via hello@shipandco.com !