Beginners on Etsy usually ask "Does Etsy have an app to help sellers manage the shops easier?".
The answer is YES !
In this article, we will introduce you to a must-have apps for Etsy sellers no matter you are new or expert. It includes a SEO app to help increase traffic, a shipping app to help ship faster, or an email marketing app to easily send newsletter to customers. If you haven't tried out any from this list, make sure to do it this year.
Etsy seller app for SEO – Sale Samurai
Etsy seller app for reporting – Putler
Etsy seller app for shipping – Ship&co
Etsy seller app for email marketing – Craftkit
Etsy seller app for affiliate marketing – ReferralCandy
Etsy seller app for SEO – Sale Samurai
In 2023, it is important for all ecommerce sellers including those in Etsy to grow business with data.
Sales Samurai helps uncover keywords that shoppers are using to make their purchases and brainstorm the next product idea. Etsy sellers can access to real search volume behind the keywords that are leading to sales, average shipping days, price distribution, and long tail keyword ideas.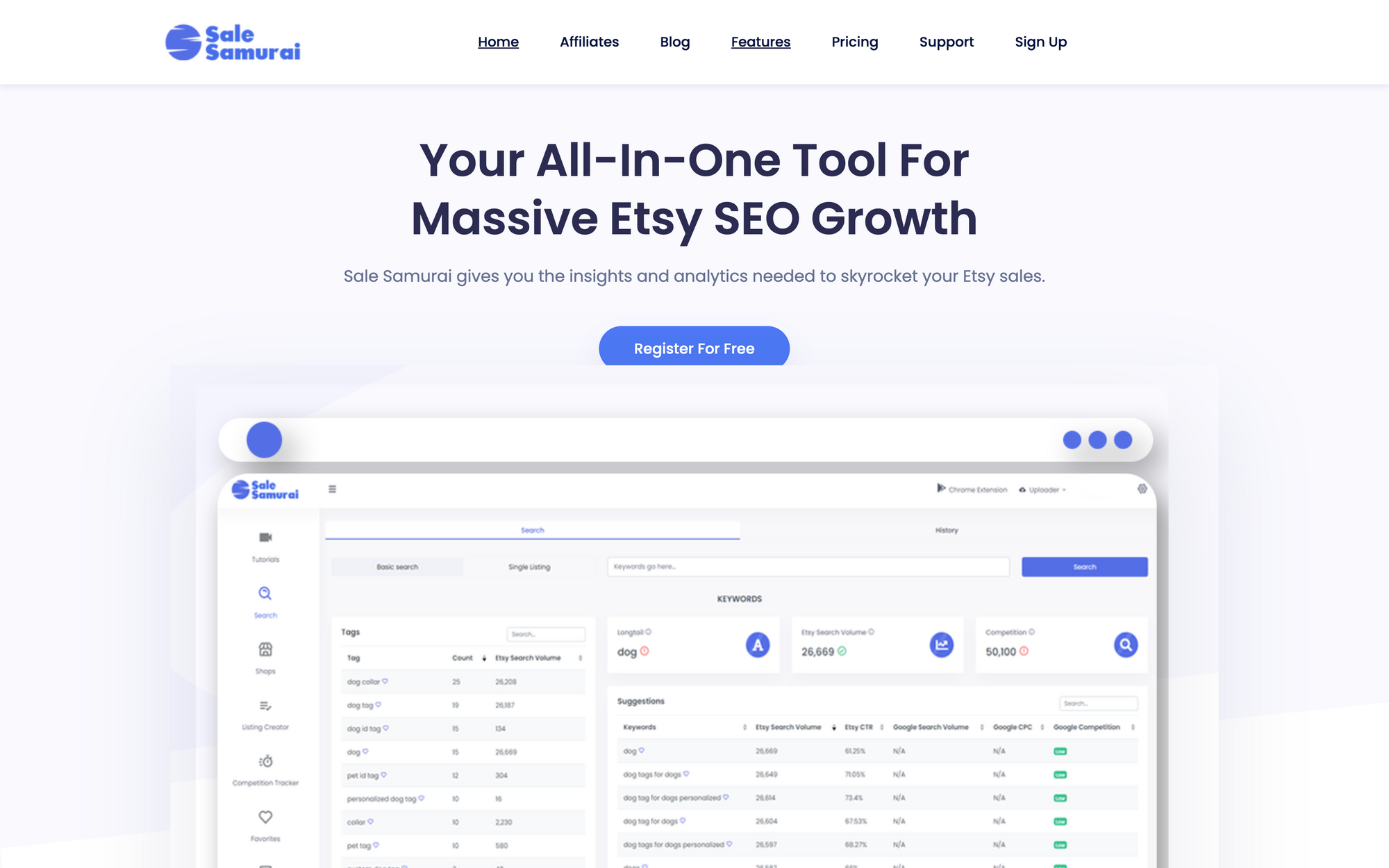 Features:
Etsy Search Volume Tools: provides Etsy keyword search volume, CPC, Competition data, and more for Etsy sellers
Etsy Analytics Tool: access to the exact tags that competitors are using, allowing you to keep eyes on them.
Etsy Chrome Extension: see real Esty search volume, discover low competition niches, and filter down to profitable keywords
Etsy Fee Calculator: determine what price to sell your products at to increase profits and make more money
Pricing:
3-Day Free Trial
Monthly plan: $9 per month
Yearly plan: $99.99 per year
Etsy seller app for reporting – Putler
Etsy sellers can look at the overview of your shop on the Standalone Etsy reports on your seller dashboard. Yet, it only gives you a glance of your transactions and sales you make, which may not be enough to analyze and develop a solid sales strategy for your Etsy shop.
That's where Putler comes in to help.
Putler offers an accurate metrics, reports and insights for your Etsy shop. It works with multiple Etsy shops and gives a complete sales and transaction data, plus a deep product information you will need to customize a campaign to grow your Etsy shop sales.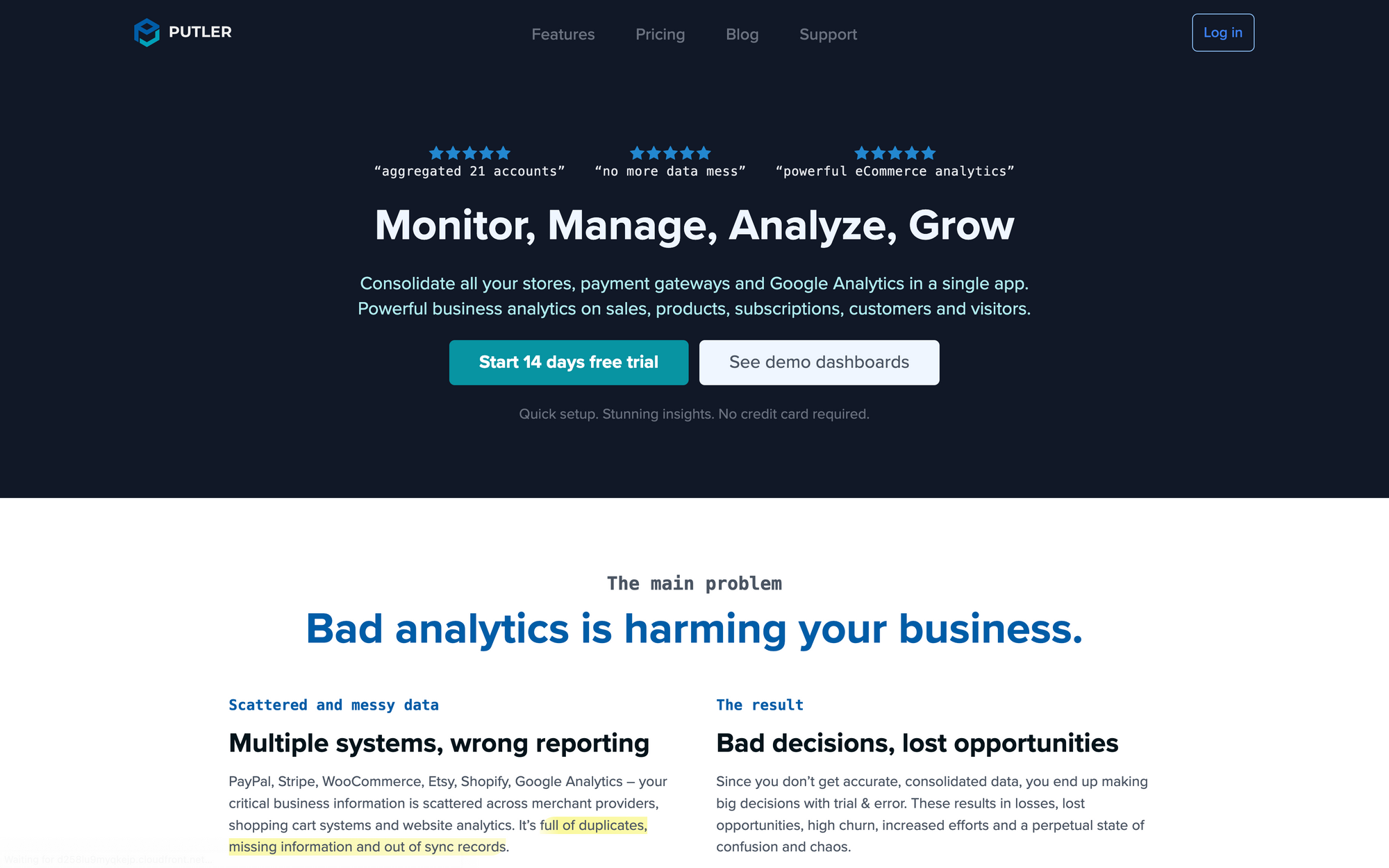 Features:
Connect to multiple payment gateways & shopping carts to see accurate stats.
Access to Etsy shops' business overview and better customer insights real-time.
Understand the sales based on products data.
Reveal complete details of top customers, worst customers, customer needing immediate attention, etc.
Pricing:
Starter plan: $20 per month
Growth plan: $50 per month
Custom plan: a tailored plan for large Etsy shops
Etsy seller app for shipping – Ship&co
Shipping and handling is the process of preparing and packing an order and delivering it to your Etsy's customer. It is a task you cannot avoid if you are selling a physical products.
If you are shipping, using your own carrier accounts (FedEx, UPS, DHL, etc.), Ship&co helps you generate shipping labels used to ship to both domestic and international destinations.
Ship&co can connect with multiple Etsy shops (and many other ecommerce platforms and marketplaces), allowing you to print shipping labels and commercial invoices and mark you order as dispatched automatically. You can either create one label or bulk create shipping labels and fulfill up to 50 orders at a time.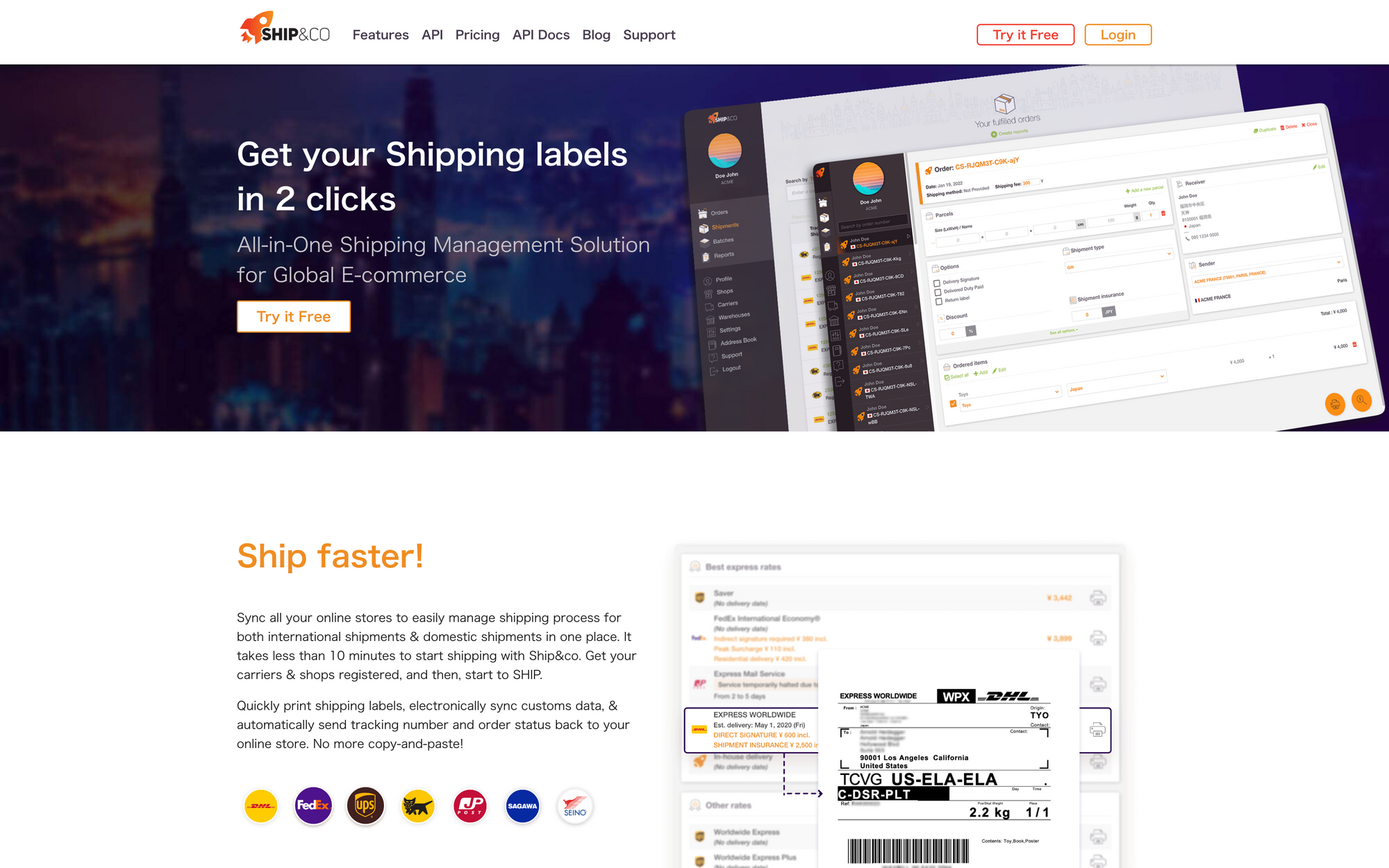 Features:
Automatically import and manage orders from multiple Etsy shops and other ecommerce shops including Shopify, eBay, Amazon and more.
Instantly compare multiple carrier shipping rates in a single view.
Generate shipping labels & commercial invoices using your own carrier accounts and discounts
Automate order fulfillment by sending tracking details & marking orders as shipped right after creating shipping labels.
Pricing:
Pay-as-You-Go Plan: $0.25 per shipment regardless of shipping volume.
Monthly Value Plan: starting from $9 per month for 50 shipments or more.
Etsy seller app for email marketing – Craftkit
Email marketing is a must-have strategy for all ecommerce sellers, no matter which platform you are selling.
Craftkit enables Etsy sellers an ability to automate email marketing campaigns. Craftkit integrates with Etsy shop, allowing sellers to create "Order confirmation" email, "Shipment confirmation" email, "Product instruction" email, or any email with required information that helps develop relationship between your customers and your Etsy shop.
Every email sellers send through Craftkit is either about a specific order or the customer has consented to receive marketing emails. In other words, this email marketing tool only sends emails that comply with Etsy's policies. You can make sure that your action isn't against Etsy's policies to communicate with customers.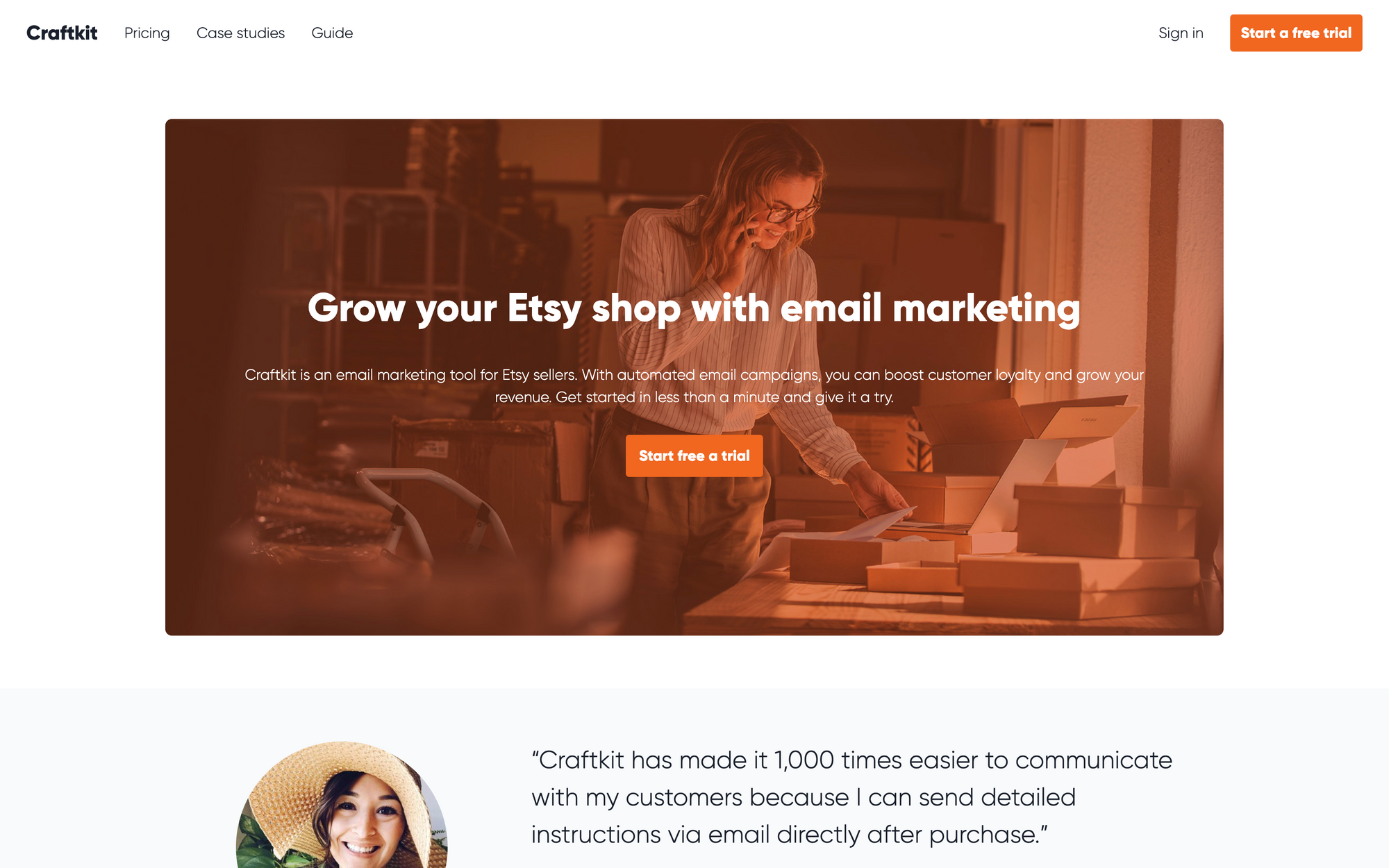 Features:
Create email marketing campaigns that integrates with Etsy shop.
Easy-to-use email editor: add buttons, product recommendations, and dynamic values from your Etsy orders.
Increase your revenue with product recommendations based on what other customers purchased together.
Build long-lasting customer relationships with an email list for your Etsy shop.
Pricing:
14-Day Free Trial
$10 per month for up to 500 customers.
More than 500 customers, $20 per month or more.
Etsy seller app for affiliate marketing – ReferralCandy
Referral marketing helps Etsy sellers encourage word-of-mouth among customers. Etsy sellers can give customers an incentive to share your products with their friends. It is one effective way to stay ahead of the competition.
ReferralCandy make sure customers can easily access to referral program. All you need to do is to sent you customers a unique referral link via email, social media, or website widgets, and then start to track rewards and sales.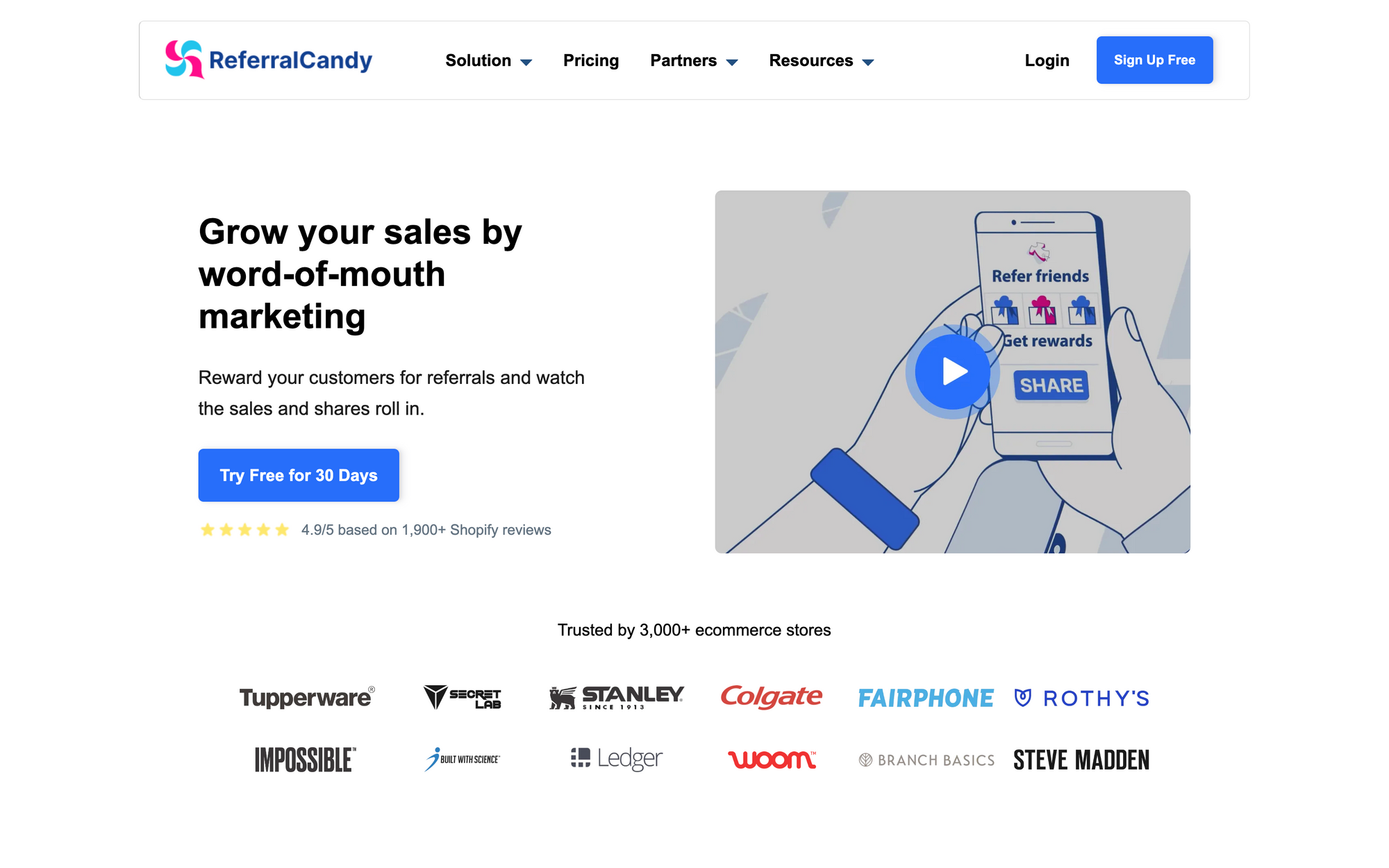 Features:
Send automated emails right after a customer makes a purchase.
Send rewards to customers who have made successful referrals: cash rewards, store discounts, or custom gifts.
Enroll as many customers as you can and enable post-purchase popup, landing page, and referral widgets to grab attention.
Get access to key metrics such as revenue from referrals, number of customers who join your referral program, and referred traffic to Etsy shops.
Pricing:
Premium plan: $47 per month billed yearly
Plus plan: $239 per month billed yearly
Enterprise plan: contact ReferralCandy for more details.
Integrate your Etsy shop with the useful Etsy seller app today!
Etsy seller app does offer you a basic tool to help grow your ecommerce business. But you can take advantage of an extra tool and take your Etsy shops to the next level.
As an Etsy seller, you need to think what you really need for your Etsy shops. Then, you can decide which Etsy seller apps suits your ecommerce operation most. Etsy seller apps including Sale Samurai, Putler, Ship&co, Craftkit and ReferralCandy brings additional value and help reduce complicated process from your Etsy shop.
Try it out today !
---
About Ship&co
Ship&co is a global shipping platform designed by and for e-commerce sellers. Created by the team behind Bento&co, who have been selling on Shopify since 2008, Ship&co provides a simple and easy-to-use web dashboard and shipping API. Ship&co helps online sellers ship packages faster by automatically syncing orders and creating shipping labels and invoices in minutes. With Ship&co, you can create shipping labels for FedEx, UPS, DHL, NinjaVan, Yamato, Sagawa, and more, with just two clicks to complete the process and mark your orders as shipped. For more information on Ship&co, visit shipandco.com or reach out to us via hello@shipandco.com !