If you are selling on Shopify, you might already have a basic knowledge of what "Shipping app" does and how it can help.
But with more than 8,000 apps in Shopify store, it is not easy to find the best shipping app that suits your operation.
If you are struggling to find shipping app to streamline your shipping process, this article will you give the answer.
What is Shopify Shipping app?
How to find the best Shopify shipping apps?
Checklist to select the best Shopify shipping app
Best Shopify Shipping Apps for 2023
What is Shopify Shipping app?
Shopify Shipping app is an Shopify application that enables Shopify merchants to manage their shipments better. The app may offer a feature to track a package or a feature to create shipping labels. It can help Shopify merchants advance their shipping power in several ways.
Depending on each Shopify merchant's operation and stage of their business, the goal to use Shopify Shipping app can be different. Here are the top reasons:
To ensure the smooth store experience to customers, from ordering to shipping and delivery of products
To offer a correct tracking details to customers
To reduce the manual, repetitive task in ecommerce's shipping process
To save the budget spent on shipping, shipping fee, shipping document and etc.
How to find the best Shopify Shipping apps?
Finding the best Shopify shipping app is not an easy feat. If you are struggling to find your right answer, you're at the right place.
There are few things you need to make clear before you start. Let us give you a full guideline how to find the perfect Shopify shipping app for your store.
Assess your current shipping process
First of all, you need to understand your Shopify store's current shipping process. That will lead you to the important points to take into account when selecting the Shopify shipping app.
For example, if you are establishing store and want to streamline shipping process from the beginning, you may need a simple app that works well with the startup business. If you are managing a large Shopify store and you have a direct contract with shipping carriers, you may need to find the app that allows to ship with your own shipping account.
Make sure to list them up:
where you ship from and ship to
what discount rates you receive if you make a direct contract with carriers
use your own shipping account or use shipping rates from shipping app
etc.
Identify your shipping problems and goals
After you know where you are at, let's make one thing perfectly clear: what you need the Shopify shipping app to solve?
The core functionality of Shopify shipping app varies. In order to choose a Shopify shipping app, you can make a list of problems you wish the Shopify shipping app can help you with and the shipping goals you want to achieve.
Then, you can browse for the Shopify shipping app in Shopify app store.
Checklist to select the best Shopify Shipping app
You can try search for "Shipping" related keywords on Shopify app store. It could be "shipping rates", "multiple carriers", or "shipping label". You can also search using carriers name such as "FedEx" or "DHL". Or, you can access "Order and shipping" category to see more what are offered in Shopify app store.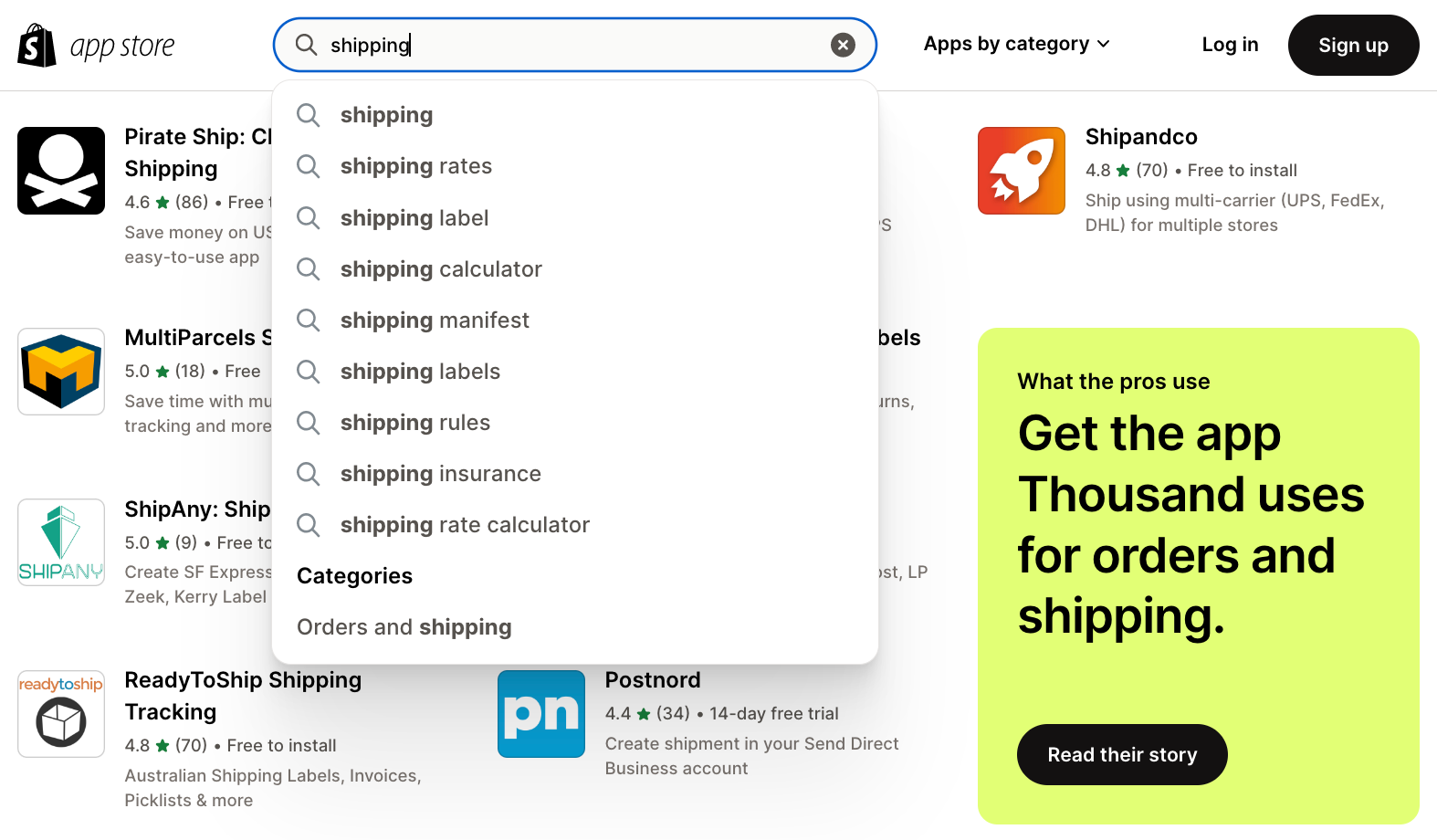 With many available, here are the checklist to identify perfect Shopify shipping app for you.
Checklist to choose the best Shopify shipping app
◻ Is the shipping app easy to use?
- The app with simple onboarding and simple UI will make your process much easier. You can see the tutorial video of those app to identify which one is the best
◻ Does the shipping app require custom coding?
- Good things about Shopify is that it doesn't much require the coding skill. For the Shopify shipping app, make sure it applies this benefit and really help make things easier for you.
◻ What problem does the shipping app solve?
- Different Shopify shipping app serves different features and solves different type of problems. You can schedule a call to talk to each support team to obtain more details.
◻ How much does the shipping app cost?
- Some Shopify shipping app charges you based on shipping rates and some charges you based on shipping labels fee. Make sure to understand this before you start.
◻ What shipping carriers and warehouse services the shipping app integrate with?
- Most important point is that the Shopify shipping app works with your preferred carriers and where you ship from. Check this out before give it a try.
◻ What other Shopify merchants say about the shipping app?
- Shopify app store allows Shopify merchants to give a review. This should give you some insights on how the Shopify app developer deal with customers support and what features are good.
Best Shopify Shipping Apps for 2023
If you are looking for the alternatives from a known Shopify shipping apps like Shippo, ShipStation or EasyShip, we highly recommend you to check Ship&co out: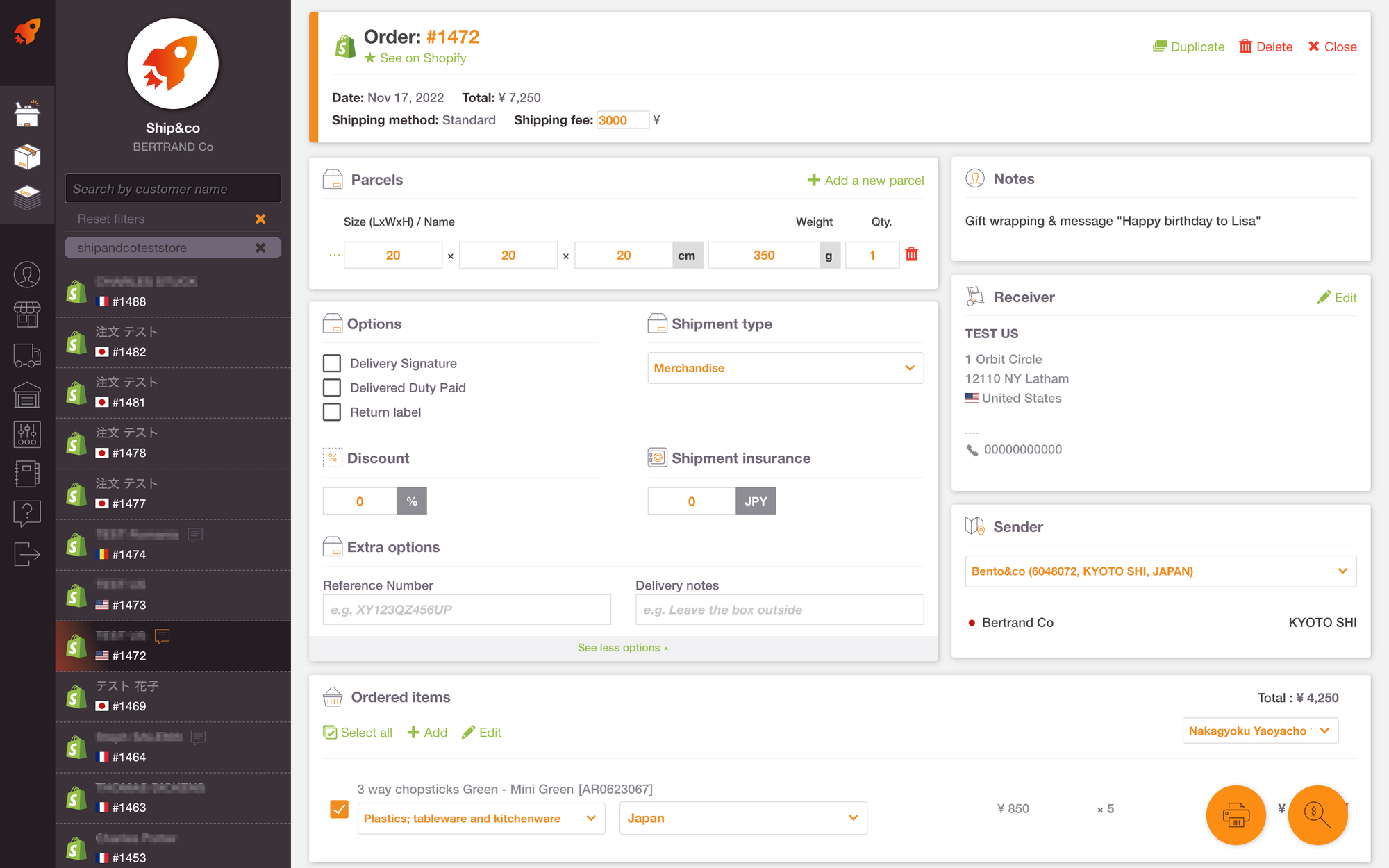 Synchronize your orders from multiple Shopify shops in real-time.
Generate shipping labels and paperless commercial invoices in 2 clicks.
Easily compare multiple carrier's shipping rates from your carrier accounts.
Fulfill orders using Shopify's multi-location inventory.
Get tracking numbers synced back to Shopify instantly.
Why use this app?
Ship&co works well for cross-border ecommerce merchants who ship using FedEx Express, DHL Express or UPS—no matter where you ship from.
For example, if you are shipping from your warehouse in the US and thinking about having another warehouses to ship overseas from Japan, Korea, and Taiwan, Ship&co is the only solution that serves both shipping needs you have.
Apart from that, Ship&co allows you to ship your orders using your own shipping account. It is the only Shopify shipping app that allows shipping with domestic carriers in Japan: Yamato Transport, Sagawa Express and Japan Post, and with global carriers to ship parcels from Japan. Ship&co offer multi-carriers and multi-shops features.
Price: Ship&co only charges for shipping labels fee.
*Since Shopify merchants can use their own shipping account in Ship&co, you need to pay for shipping rates to each carriers you are shipping with.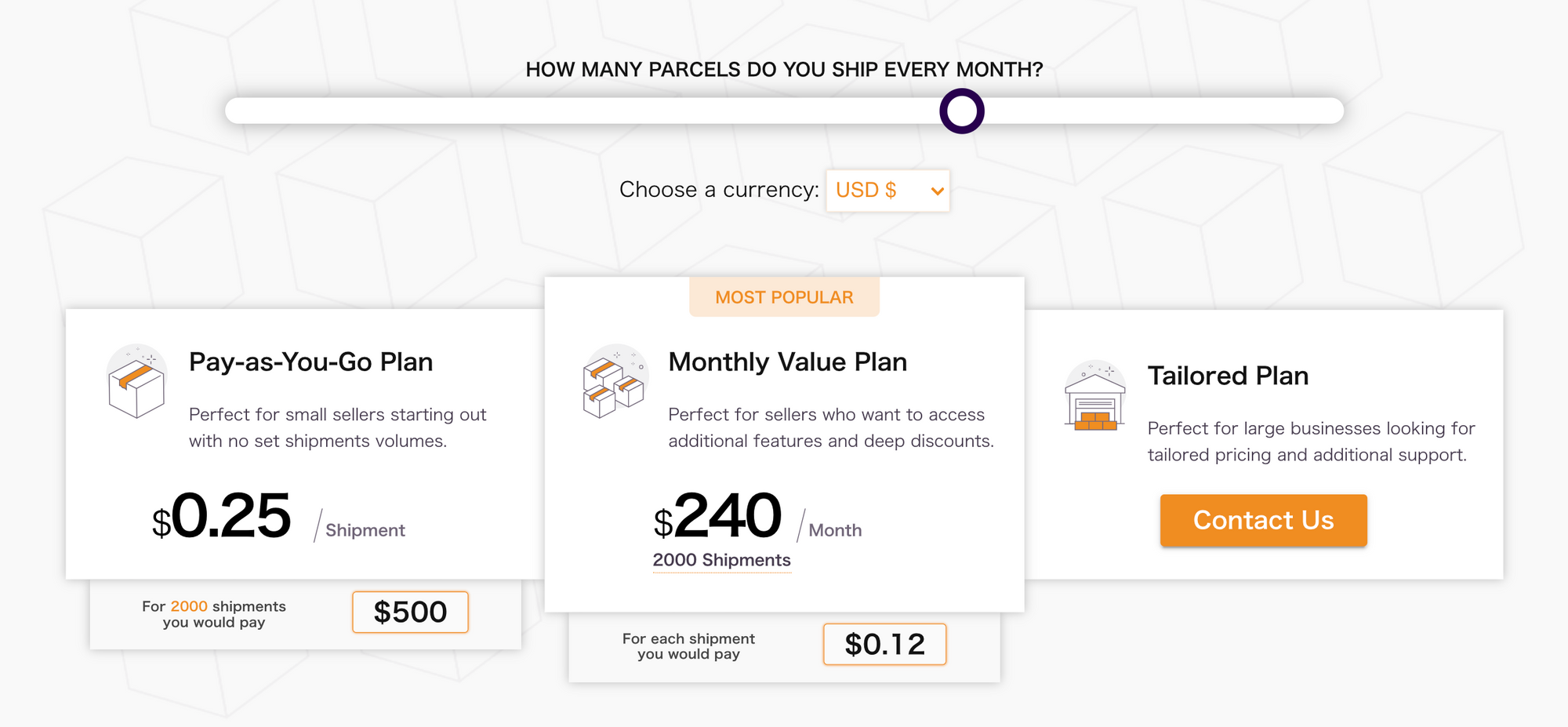 What's Next?
All in all, Shopify shipping apps are similar in capabilities. Yet, some of them available only for the particular shipping destination. Some of them requires you to have your own shipping account with carriers.
You doesn't have to stick with only one Shopify app since there is no limit in app installation. Make sure to determine your business needs and select what's best to scale up your business.
If you are struggling to find your right Shopify shipping app, give us a holler, we will be happy to lend a hand.
---
About Ship&co
Ship&co is a global shipping platform designed by and for e-commerce sellers. Created by the team behind Bento&co, who have been selling on Shopify since 2008, Ship&co provides a simple and easy-to-use web dashboard and shipping API. Ship&co helps online sellers ship packages faster by automatically syncing orders and creating shipping labels and invoices in minutes. With Ship&co, you can create shipping labels for FedEx, UPS, DHL, NinjaVan, Yamato, Sagawa, and more, with just two clicks to complete the process and mark your orders as shipped. For more information on Ship&co, visit shipandco.com or reach out to us via hello@shipandco.com !